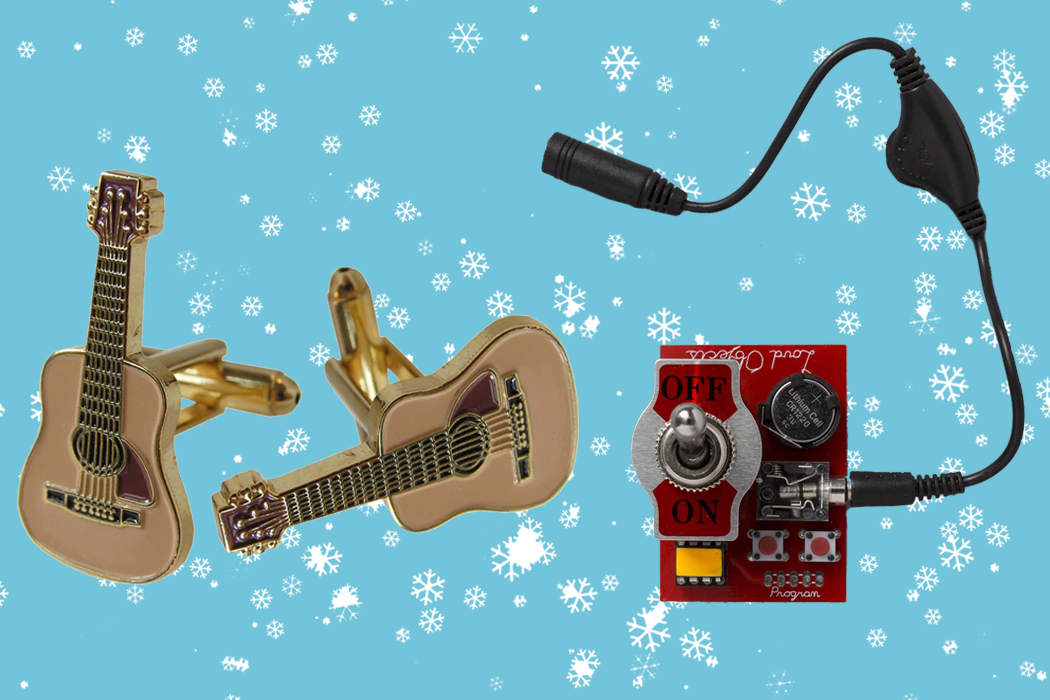 Holiday content doesn't typically get searched-for, found, or read, after the morning bells of January 1st stop ringing — but for some reason, people have been emailing me all year about Soundfly's 2016 "Bizarre Holiday Gift List." So, I guess there really is no time of the year when it isn't appropriate to buy someone a musical gift!
That's certainly the case for gifts that keep on giving, like the educational and inspirational gift of a Soundfly course for the musician in your life that continues to strive for greatness. Our Mainstage courses make great presents; with personalized 1-on-1 mentorship and feedback from a professional in their field, a semester's worth of video content and resources, practice prompts and inspiration, and a platform to showcase their work to thousands upon completion. Plus, right now you can get 40% off any course we offer, that's $200 (enough leftover dough to make, like, 10,000 cookies for Santa) with promo code: NEWYEARNEWMUSIC.
But if you're looking for something you can stuff into a box and hand to a musically inclined loved one, here's our 2017 Bizarre Holiday Gift Guide.
Chocolate Vinyl Record and Cassette Duo
The answer is, yes, you really do need this. The problem is that I looked and could only find it sold by UK retailers, so whether or not your chocoholism is really worth the shipping is up to you.
Dan Weiden's Musical Ruler
Yup, that's right. Now you can learn to play simple melodies on a ruler and bug the crap out of your friends, like this well-dressed gent below.
Tupac (and Other Celebs) Prayer Candle

Turn often to your favorite songwriters for guidance? Make it official with one of these saintly offerings. Also available: Morrissey, Michael Jackson, Kurt Cobain, and… Joe Biden (because… Joe Biden).
Bamboo Guitar Utensil Set
Cookin' up a stew of rock 'n' roll? These Fender Stratocaster-styled kitchen tools will hopefully inspire you to work some magic in the kitchen whether you're eating solo or with a band of your friends!
Instrument and Musical Equipment Patent Prints
From oboes to drum sets, and, of course, microphones, this studio has printed a bunch of officially filed patent diagrams on poster paper. Choose all kinds of styles and sizes and nerd out all over your wall!
From $5.50 to $35.70 at Wunderkammer Studio
Favorite Song Sound Waves Print
I guess I'm not really a "lyrics guy," either, but, to be honest, this seems like a dumb gift. If sound waves are your thing, however, than you can own a printout of your favorite song start to finish (I assume) for the delightfully random price of owning the whole dang album on every format it ever came out on. Or, you could just make this yourself in a DAW of choice.
Guitar Cufflinks

I wouldn't go so far as to say you need these, but I'll tell you one thing: Wearing them is the quickest way to tell whether not you should be signing that deal in your next meeting. If you walk into someone's office wearing these babies and they don't comment on your cufflinks, it's not gonna work out, guy. Also, there's at least 200 different types of guitar cufflinks available on Etsy alone, which says…. something… about something….
Ari Herstand's How to Make It in the New Music Business Book
Ari Herstand is a DIY guru of music-biz knowhow, and we should know: We spent a month making a free course with him that focuses solely on helping artists understand the complex world of royalty payments and get paid more for their work. His new book shares a wealth of that knowledge with input from tons of successful artists, managers, and label reps.
Sound Huggle: the World's Coziest Wireless Headphones

Sound Huggle is the world's coziest hi-fidelity wireless headphone, offering excellent full-range performance with deep, punchy bass, balanced mid-range, and crisp, non-piercing highs. You can even take calls! Your music – 1, Winter – 0.
$117 when you pre-order via IndieGogo
Musical Shoes (DIY!)
Here's a musical wearable you can make yourself (with a bit of Arduino magic and some fabric cutting). It's definitely a project, but a rewarding one if you're of the creative, beat-making ilk. Luckily, Instructables has you covered with their recipe.
Build-Your-Own Cigar-Box Guitar Kit (DIY!)

Cigar-box guitars are incredible sounding string instruments, and they're almost always made by hand by some reclusive artisan in their garage — which means they tend to be like hundreds, if not thousands, of dollars. That's why Drummond + Hammett decided to make a build-your-own cigar-box guitar kit. Get the same great sound, and finally do something with that smelly thing collecting dust on your mantle.
Halo Sport Neurostimulation System
You heard that right. Well, it's not cheap, but the results speak for themselves. Practice works the same way in the brain whether you're an athlete or a musician; when you practice, it strengthens and synchronizes the neuro-muscular connections in the brain's motor cortex. In other words, the hours you spend practicing are only as efficient as how quickly your motor cortex can learn and master movements through repetition. By priming this area of the brain via neurostimulation, Halo Sport can help you improve faster.
$749 at Halo Sport (payment plans available)
Crank Sturgeon's Variety of Homemade Contact Mics
Crank Sturgeon is an experimental performance artist well-known for his homebuilt and circuit-bent electronic creations, and now he's making them available to all. He's got a range of pickup devices from the classic contact mic (pictured above), to stethoscopes, double piezos, and everything in between — all courtesy of this eccentric guy.
From $10 to $45 at Crank Sturgeon's online shop
Loud Objects' "Noise Toy" Pocket Synthesizer
Speaking of homebuilt electronics you can use to make funky noises… Tristan Perich, Kunal Gupta, and Katie Shima's electronic project, Loud Objects, has released five different-sounding versions of their latest product, "Noise Toy." And that's exactly what this is. Here's one way to blast into outer synthesizer space.
Grateful Dead, Pink Floyd, and Pantera-Style Baby Strollers
If we're gonna feature "toys," we might as well feature something for the mommies and daddies! This company makes parenting tools for those who just can't give up their musical fandom for anything — thus, their line of products features Beatles sippy cups, stuffed broken guitar pillows à la the Who, and three strollers styled with the logos of your favorite bands.
And Here's a Joke Courtesy of Our Head of Production, John…

Fun Fan Merch
Ben Folds' 6″ Microfiber Lens Cleaning Cloth
Composer and singer Ben Folds' online merchandise store is filled with goodies like beer koozies, ballpoint pens, water bottles, and these microfiber lens-cleaning cloths which come in two fun, different designs!
"Run the Yules" Holiday Sweatshirt
$55 at Run the Jewels' online shop
Cardi B Press-On Nails
SZA Air Freshener
Lana Del Rey Mug
Beyoncé "Lemonade" Wrapping Paper
Fall Out Boy Figurines
Father John Misty Tarot Cards
$65 at Father John Misty's online store
Panic! At the Disco Pill Box

AC/DC Holiday Ornaments
…And Last but Not Least, Soundfly Mainstage
Give the gift of online learning and personal mentorship. Purchase now at $299 (down from $499) with promo code: NEWYEARNEWMUSIC. (Gifting options are available at checkout.)