It's easy to romanticize the lives of famous musicians. From larger-than-life rock stars to groundbreaking pioneers of sound, and dazzling technical virtuosos, we look up to our musical heroes and strive to live and create the same way that they do. But no one is free from the potential disasters that lurk around every corner. Submitted for the approval of the midnight society, we call these stories "Scales from the Crypt: 10 Freaky & Frightening Musical Instrument Mishaps."
1. "Leggo Ma Cello"
To begin our tour de farce, let's visit with the world renowned cellist Yo-Yo Ma. The day after performing a sold out concert at New York's Carnegie Hall in 1999, the cellist hopped into a yellow cab, heading from Central Park West down to his Midtown hotel. Ma paid his fare, and in addition to leaving a tip, left his irreplaceable 1712 cello built by Antonio Stradivari in the trunk of the car.
Shortly after he realized his mistake, a small manhunt ensued. Luckily, Ma had kept the receipt for the trip, which had the cab's medallion number on it. The NYPD issued an all points bulletin for the cab with the missing instrument. A patrol car was sent to the dispatching facility in Queens, which caught up with the driver as he was returning from his shift. Luckily for Yo-Yo, the cello was found intact in the trunk, and returned to him promptly in time for his performance that evening.
When asked why a musician such as himself was taking a yellow cab, Ma responded, "I'm like a regular person." Well, that may be so, Mr. Ma, but unlike a regular person, you carry a multi-million dollar instrument.
Moral of the story: Always be sure to keep your taxi receipts.
2. "Fresh Prince of Don't Care"
Let's assume you are Kirk Douglas, the guitarist for one of the most prominent groups in modern music, a band that currently performs nightly for a nationally syndicated audience, backing some of the greatest musicians in the world, The Roots. Pretty sweet, right? Now let's assume that you just found out that one of your all time musical heroes, the recently departed Prince, is going to be performing on your show, and asks to borrow your guitar — a 1961 Epiphone Crestwood. What an incredible honor, right? Wrong.
Prince and his all-female backing band Third Eye Girl took the stage on Late Night with Jimmy Fallon to perform two songs. At the end of his 1979 classic "Bambi," Prince did what any entitled rock star might do with a vintage instrument on loan — smashed the living hell out of it.
To make matters worse, at the end of the show Douglas asked Prince to sign the instrument that he had just destroyed. Instead of obliging the guitarist, offering to pay for the damages, or even simply apologizing for his actions, Prince flat out refused to autograph the guitar. I am lead to believe he then vanished into a crowd of Purple smoke. We love you Prince, and not a day goes by that we don't savor the music you left behind and the way you changed music forever. But, come on, dude. Not cool.
Moral of the story: If someone asks to borrow your axe, try and get a down payment first.
3. "Frampton's Guitar Comes Alive!"
Peter Frampton is best known for his seminal 1976 live album, Frampton Comes Alive! Formerly a member of Humble Pie, Frampton enjoyed great commercial success in the '70s and beyond as a solo artist, as well as contributing to other classic albums as a sideman. One such album was George Harrison's All Things Must Pass, where he was first introduced to the talk box, a musical effect that would become his signature. If you ask Frampton, however, he'd say that his signature sound was the magic created by his 1954 Gibson Les Paul Custom, originally belonging to a friend and given to Frampton before a gig at the Fillmore West in 1970.
Unfortunately, that magic was cut short in 1980, when on a South American tour, the cargo plane transporting his entire stage setup crashed immediately after takeoff. Three lives were lost in the crash, in addition to (presumably) the band's entire collection of instruments. However, over 30 years later, it was discovered that one notable instrument did survive the crash — his prized Les Paul. The instrument had wound up in the hands of a local Caribbean musician. Of course, Frampton had long since considered his guitars to be gone forever, but with the help of a few unlikely characters, Frampton was reunited with his guitar in 2011.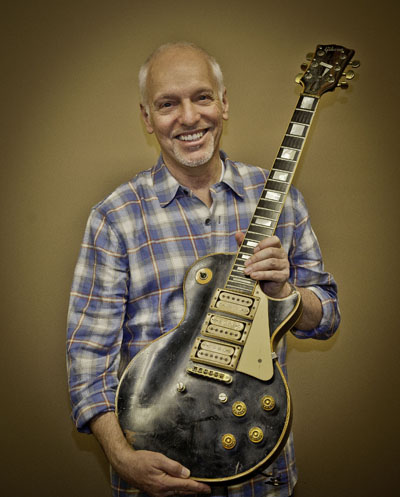 Frampton claimed in an interview that he would be bringing the guitar back to road-ready specs, as that is where it deserves to be.
Moral of the story: Don't check your guitar if you can help it.
+ Read more on Flypaper: Find out how to take your prized guitar as a carry on with "How to Travel with String Instruments."
4. "Face of Bass"
Nirvana has earned their place in rock and roll history ten times over. Their iconic, temperamental frontman Kurt Cobain died in 1994, and drummer Dave Grohl has gone on to lead his own band, the Foo Fighters. Bassist Krist Novoselic has been involved in a handful of musical projects since losing his longtime friend and bandmate Cobain, as well as a career in political activism.
In 1992, Nirvana was invited to perform a song for the MTV Music Video Awards. There was controversy surrounding the performance as Cobain was adamant about performing their song "Rape Me" — a suggestion that wasn't taken well by the network, who insisted on a song off of their more recent release. Realistically, any song that wasn't called "Rape Me" would have been fine. Tension was high as Nirvana took the stage, and Novoselic admits to being dissatisfied with the bass rig provided, as well as being slightly inebriated. Cobain began playing the opening chords and lyrics to "Rape Me," just to scare the network and everyone at home, and promptly went into the ostensibly tamer "Lithium," instead.
Towards the end of the song, 4:15 in the video below, Novoselic attempted to toss his bass, which came down hard on his head, knocking him to the ground and left to lumber around the stage like a drunken grunge zombie for the remainder of the performance.
Novoselic has since opened up about the evening in a blog post for the Seattle Weekly News, for those curious to hear more about the evening straight from the horse's mouth (as well as a little anecdote about Axl Rose). Here's a juicy morsel:
"I stumbled offstage toward the green room with my hands on my forehead. I walked straight into the bathroom and looked at a bloody forehead in the mirror. I washed my face off and put a paper towel to my head. Paramedics came in and put a little bandage on, then handed me a long medical release form to sign. Standing behind them was Brian May, the guitarist of Queen, with a glass of chilled champagne. I signed the release just to get the medics away from me so I could take a sip of Mr. May's wonderful medicine. Ahh, yes!!! Moments later Dave Grohl burst in. He'd been looking all over for me, only to find me enjoying a calm glass of bubbly with Mr. May. It was a relief for all!"
Moral of the story: What goes up, must come down.
5. "The Hunt for Red Rock-owner"
The story of the love triangle between George Harrison, Eric Clapton, and Pattie Boyd is one of the more compelling tales in rock and roll history. Boyd was the inspiration for Harrison's classic "Something," as well as Clapton's magnum opus "Layla." Besides a wife, however, there was another curvy little number that the two performers shared — a 1957 Gibson Les Paul by the name of Lucy.
The guitar was purchased by Clapton in New York City. Lucy was previously owned by a handful of other rock and rollers, and had been refinished to its original cherry red after a decade of heavy use. Clapton didn't have a pertinent use for the guitar at that time, and gifted the instrument to his good friend, the Beatle. Harrison nicknamed it Lucy because it's red finish reminded him of comedienne Lucille Ball.
A few weeks after he gave the guitar to Harrison, Clapton was invited to EMI Studios to perform lead guitar on a song Harrison had written for the Beatles' upcoming, self-titled album. The song was called "While My Guitar Gently Weeps," and Clapton performed the solo using Lucy, allegedly in one take, albeit so stoned he can't even remember having played it.
Lucy was stolen during a robbery at George Harrison's Beverly Hills home in 1973. It was sold to a guitar shop in Hollywood, who then immediately resold it — ignoring the statutory 30-day waiting period — to Miguel Ochoa of Guadalajara, Mexico. Eventually the guitar shop that sold Lucy saw a stolen-property bulletin for it, and reached tried to reach out to Ochoa to buy it back from him. A lengthy negotiation followed between Ochoa's representatives, the guitar store, and Harrison and Clapton, and ultimately it was traded for another Les Paul, as well as a Fender P-Bass. Harrison described losing Lucy as feeling like a "kidnapping" and carefully held onto her until his death.
Moral of the story: Crime doesn't pay — except for when it does.
+ Read more on Flypaper: Discover what makes certain guitars so special in our article series, "Fundamentals of Guitar Anatomy."
6. "Fret-Hot American Bummer"
Jaco Pastorius led an incredible life, despite being tragically cut short at the age of 35. He changed the musical landscape, contributed to countless albums in both jazz and pop, and tales of his wild antics are still told to this day by those who knew him.
Legend has it that in his search for tone, Jaco took the frets of out his 1962 Fender Jazz bass himself. He filled in the holes and covered the fingerboard with several coats of boat epoxy. He nicknamed it the "Bass of Doom," and it was the only fretless bass that he recorded with. Sometime towards the end of his life, during which he was struggling immensely with his mental health, the bass was stolen. It resurfaced in 1993 in a New York City music shop, but the owner refused to return the bass to the Pastorius family.
It was only when Robert Trujillo, bassist for Metallica and longtime Pastorius fan, heard of the legal battle over the bass that there was any hope of resolution. Trujillo selflessly donated the money to the Pastorius family to be able to recover the bass for good. Although Trujillo technically owns the bass, he has stated the he would gladly part with the instrument for its original purchase price to the Pastorius family. He claims that both parties would ideally like to see the bass in a museum.
Moral of the story: Friends in high places can help those with lost basses.
+ Learn more: Learn about band leadership from a bassist's perspective with our free course, Building a Better Band.
7. "Grand Theft Auto: Vinyl City"
Grandmaster Flash is one of the most iconic DJs in hip-hop history, single handedly developing turntable techniques that are still used to this day. His group, Grandmaster Flash and the Furious Five, is associated with the origins of terms such as hip-hop and MC, and hosted some of New York's earliest freestyle rap battles.
Cut to 2014. The Grandmaster himself is called upon to help filmmaker Baz Luhrmann with his forthcoming television series, "The Get Down." He obliged, and packed up his car with three crates of incredibly rare, valuable albums — albums he used to create the original sounds of hip-hop. While out about town, he parked his car in a garage to run an errand at the soon to be shuttered NYC staple, Tekserve. After an hour or two, he returned to the garage to retrieve his car. Upon seeing him, the valet's eyes widened and he turned white. He had mistakenly turned the car over to the wrong customer. To date, the car — a customized Dodge Charger — as well as the three crates of priceless albums, are still missing.
Moral of the story: Don't lose your charger.
8. "Pawn with the Wind"
Charlie Parker is widely considered the father of the bebop language. His innovations as a saxophonist, bandleader, and composer are still felt in jazz today. However, like so many jazz musicians at the time, Parker was not without demons. His lifestyle was pure hedonistic excess — when it came to women, food, booze, and drugs, there was no limit to his consumption.
What we know is that Parker pawned his sax — likely to score heroin — before his performance at Toronto's Massey Hall in the spring of 1953. Parker was under contractual obligations to appear with one type of saxophone for any performance in the United States, but since the show was in Canada, he was free to play with whatever horn he liked. A representative for Grafton asked Parker to play with their newly developed plastic saxophone, and he agreed. The show was recorded, and Jazz at Massey Hall, which features his quintet of Dizzy Gillespie, Charles Mingus, Max Roach, and Bud Powell, has long since become a staple jazz album, widely considered one of his greatest concerts.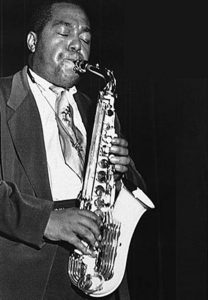 The Grafton plastic saxophone never took off in the consumer market. It was notably used by another jazz musician, Ornette Coleman, who sought to exploit its harsh tone. But due to its unorthodox sound and overall fragility, the company stopped production within a few years, and the remaining saxophones are treated as collectors' items. Parker's performance on the instrument represents possibly the only time that pawning your instrument for drugs and playing instead on a plastic version didn't turn out to be the horror story it would have been for any other artist.
Parker died shortly after at just 34 years old, but his legacy, and the legacy he lent to that plastic instrument, lives on.
Moral of the story: Sometimes plastic sounds fantastic.
9. "Prototype-O-Negative" / "The Thrill is Pawn"
B.B. King's career spanned over six decades. He influenced countless rock and rollers who imitated his blues tone and feel. Without him, music simply wouldn't be the same. He continued to tour through the end of his life, and left us with wonderful memories, albums, and a signature guitar to boot.
King was known for playing a Gibson 335. Back in the '50s, he was playing a show and a fight broke out, starting a fire. Once safely outside, King realized he had left his prized guitar behind, and ran back into the burning building to retrieve it. He later learned the fight had been over a woman named Lucille, and so he named that guitar — and all of this subsequent guitars — Lucille, as a reminder not to fight over a woman, or to run into a burning building, ever again.
In 2009, a collector named Eric Dahl was notified of an interesting guitar in a Las Vegas pawn shop. He went in to check it out, and sure enough it was a Gibson ES-345 B.B. King Lucille, 80th anniversary model. The guitar didn't have its original case or any of its paperwork, and appeared to have been heavily used. On the back, though, where the serial number should be, he saw a stamp — prototype 1. He bought the guitar and did some sleuthing. After a few weeks, he received a phone call from the head of artist relations at Gibson, informing him that this was a guitar that Gibson made as a gift to King, and had been his main touring guitar since 2005 until it was stolen in 2009.
Dahl had the chance to hand the guitar back to his hero personally, and King arranged for Dahl to receive a custom Gibson Lucille of his own.
Moral of the story: If you see something, say something.
10. "Dressed to Compress"
Phish is a cult favorite who have been performing for over 30 years. Despite their lack of mainstream success, they've accrued a steady and dedicated following over the duration of their career. The band suffered a few rocky years in the early 2000s, initially going on a hiatus and then breaking up before reforming in 2009.
So just how loyal is their fanbase? When the band started playing shows between their hiatus and breakup, fans noticed that guitarist Trey Anastasio's tone had become dirtier, with more bite and edge. And they were right — up until then, Trey employed a Ross Compressor at the end of his signal chain, which meant that all of his effects were being sent through the compressor, creating the warm, rounded tone sustain for which Trey was known.
A group of diehard fans noticed the difference and started an online group called People for a Compressed Trey. When Trey finally found out about the group, he reached out to them, explaining that he'd happily return the Compressor to his rig — but he'd lost it, losing with it his signature tone.
The fans pooled their resources and sent Trey a brand new (well, vintage) customized compressor, and the rest is history. He was so overjoyed, he penned a letter to the group to show his appreciation, which included a dash of humor.
+ Read more on Flypaper: "Finding Your Ideal Guitar Tone: Pedals"
Moral of the story: You can always get what you want, if you're Trey.