+ Welcome to Soundfly! We help curious musicians meet their goals with creative online courses. Whatever you want to learn, whenever you need to learn it. Subscribe now to start learning on the 'Fly.
What's in a name? Picking the perfect band name is hard, as I'm sure any of you who have started, or have even thought about starting, a band can relate. Popular music is full of naming trends, just like how the year 2014 was filled with newborn babies named "Khaleesi." There are the timeless "The" bands, the "and" bands, and the "and the" bands. There are the ephemeral, trendy "Wolf" and "Crystal" bands. There are bands named after places.
And then there are these: bands with symbols that make it impossible to type, or Google, or pronounce. Here are some of the music world's best hieroglyphic epithets.
BØRNS
Garrett Clark Borns (a.k.a. BØRNS) is a mysterious neo-wave tour de force hailing from Grand Haven, Michigan. Being an androgynous king of glam rock comes with perks such as the audacity to include the slashed letter "O" in his name and not caring whether or not you know how to find him on the internet. The slashed "O" is used in several languages including Danish and Norwegian. BØRNS is popularly pronounced closer to burns than borns.
CHVRCHΞS
Scottish synth-pop festival mainstays CHVRCHΞS were the first band I thought of including on this list. Their stylized moniker contains not only an alternate spelling, but an untypable character as well (unless you're Greek or arbitrarily have your keyboard set to Greek). This seemingly large letter E sans vertical line is the Greek capital letter Xi, pronounced as ksi. It's the 14th letter of the Greek alphabet.
The V in place of U is actually not that unusual… that is, if you grew up 2,000 years ago on mainland Europe and spoke Latin. Before the letter U was developed, the letter V stood for both the consonant V, and the vowel U. Singer Lauren Mayberry, told City Pages in 2013, "I feel a bit bad because we didn't think it would be a big deal. Our friend Amy did the art for us. She stylized it as a Roman 'U.' We carried it along to the printed name. It's really odd. People ask 'How do you pronounce that?' I'm okay with being in a band with a funny spelling."
And here I was the whole time thinking they didn't want to compete with the Vatican's web presence.
A$AP Ferg, A$AP Rocky, Ty Dolla $ign, Ke$ha, etc.
All I see is signs; dolla, dolla, dolla signs. No list of symbolically named artist would be complete without the contemporaneously popularized letter S stylization of $. It just oozes swag. Like, does anybody remember this?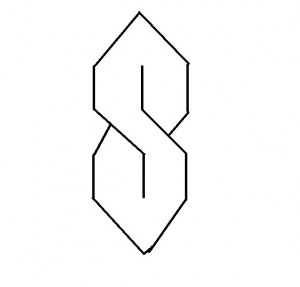 Members of the mainstream rap renaissance including A$AP Ferg, A$AP Rocky, and Ty Dolla $ign have used this grade school play on the Latin alphabet in recent years to tout their success and establish that they are, in fact, the kings of $$$. Pop singer Kesha stopped using this iteration of her name quite a while ago, explaining that the $ was initially intended to ironically allude to the fact that she was not, in fact, making any dollars. Well, that's changed, too.
Sixx:A.M.
Mötley Crüe (a band as famous for its two umlauts as it is for the music they made) bassist Nikki Sixx's side project with DJ Ashba and James Michael will give your brain a sober hangover. Looking like a mixture between your broken alarm clock and braille, this band's name is an amalgamation of Sixx's stage name, and the initials of Ashba and Michael.
!!!
!!! is a band that formed in Sacramento, California in the mid '90s. Their catchy blend of dance pop and Britpop could be equally at home in a discotheque or a swampy bar somewhere below the Mason Dixon. In case you were wondering (I know you are), !!! is pronounced chk-chk-chk. The band is still active, and releasing music, and funky as high heaven.
KoЯn
Emerging out of Bakersfield, California in the early '90s, "nu-metal" pioneers KoЯn found themselves at the forefront of an alternative music culture bomb; one which also gave us "The Nookie" by Limp Bizkit. Marrying elements of metal, funk, rap, and grunge, with detuned 7-string guitars and dystopian lyrical themes, KoRn also went the extra mile with their stylized moniker, borrowing a faux-cyrillic letter "Я."
As to KoЯn's origin? Rumor has it inspiration for the backwards Я came from Toys "R" Us, where members of the band had previously worked (possibly creepy in its own right). Former drummer, David Silveria called the band's name "dumb," and said, "the music makes the name, because KoЯn's a dumb name. But once we get established, it makes the name cool."
*NSYNC
Is it NSYNC, or *NSYNC, or N*SYNC, or 'N Sync?? For a startlingly popular group, these stylizations are alarmingly out of sync… Somehow, and perhaps this is unsurprising, a web search for all of these monikers yields legitimate results, so we'll have to let the fans decide which is the true label for Justin Timberlake, JC Chasez, Chris Kirkpatrick, Joey Fatone, and Lance Bass. Take a moment to ask yourself how this happened…
And this….
If NSYNC had to immigrate or fill out a Livescan, they would have a heck of a time with all those aliases, but not as much trouble as our next artist…
Prince's legal battle with Warner Bros. in the early '90s has been widely publicized, and the story behind what drove him to create "Love Symbol #2" is well known. Talk about creating market demand. Somehow, even with today's advanced technology, there exists no way to type this character. In fact, Warner had to mail a massive quantity of floppy disks loaded with a custom font to use this image in print. Imagine how much easier it would be to type 
than, "The Artist Formerly Known as Prince" or "Prince Symbol." Even out of 2,666 emoji, the symbol formerly known as Prince does not exist. I think we need to change that. #princeemojinow
Sunn O)))
Sunn O))), commonly mispronounced as Sun-Oh, are (almost literally) the torch-bearers of the doom metal tradition promulgated by bands like Black Sabbath, Sleep, Orange Goblin, and Electric Wizard. The band, whose name is actually pronounced simply as Sun, takes dirge to new extremes with tempo-less drones, grinding fuzz, and harmonic overtones that make you positively melt into whatever surface you may be touching.
The band name comes from the logo of Sunn amplifiers, which feature a pictograph of sound waves emanating from a loudspeaker.
Sunn O)))'s semantic devilry doesn't stop there. Their album, ØØ Void (pronounced in interviews as double-O void) further cements their Mordorian reputation as stoner rock's most visceral outfit.
What names did we criminally leave off this list? Do you love a band with symbols in their name? Let us know in the comments!
Improve all aspects of your music on Soundfly.
Subscribe to get unlimited access to all of our course content, an invitation to join our members-only Slack community forum, exclusive perks from partner brands, and massive discounts on personalized mentor sessions for guided learning. Learn what you want, whenever you want, with total freedom.