A ton of amazing books about music have recently hit the shelves. Whether you're jonesing for a new book to cuddle up with in bed, stocking up for summer beach reads, or looking for something to occupy your mind on the train, there's something new out there for you! Here's our round up of the best music books to come out in the last last year and a half…
The Record Store of My Mind, by Josh Rosenthal
I was brought almost to tears as I moved through the chapters of this psuedo-memoir by the Tompkins Square Records label head Josh Rosenthal. In this book are countless stories describing both Rosenthal's upbringing and sincerely deep connection with the music of his past, both live and on record, as well as the untold stories behind each artist he profiles. We're given inside access to the past and present lives of artists who we may have never heard of, but who have made enormous impacts on the last 80 years of popular music, including the blues, jazz, rock, and folk. It's a spectacular read.
Hunger Makes Me a Modern Girl, by Carrie Brownstein
Speaking of spectacular-reading memoirs, here's Carrie Brownstein's. She recounts how she found punk rock, or how the community around it found her, and focuses heavily on the time she spent in her highly influential band Sleater-Kinney. Moving from the local scene in Olympia, Washington to tour stories across the country, she opts to tell stories that truly resonate with her development as a musician/songwriter, and a girl growing up amidst all of it.
Unfaithful Music & Disappearing Ink, by Elvis Costello
More memoirs! Nobody does it like Elvis though, with 700 pages of autobiographical irritation and self-loathing, and some really juicy stories in there as well. What makes Costello's account of his own life so enjoyable, however, is that chronology is basically thrown out the window. Jumps in time, random anecdotes on songs, distracting cameos like Ray Charles, Paul McCartney, and Johnny Cash keep a reader guessing, and only wanting more and more of it, as the pages seem to turn themselves here. This book was written not only for the superfan, but for the casual appreciator of Mr. Costello's career, his unique perspective and his utterly brilliant musical sixth sense.
Electric Shock: From the Gramophone to the iPhone, by Peter Doggett
While this one is essentially just a history book — telling the story of pop music through the various milestones that drove the music industry batty over the last 125 years — Doggett makes sure to periodically contextualize the way music has shifted today, making the history of pop feel uniquely relevant. His brilliant, compelling writing traces pop music back to the first moments when sound could be recorded and played back, so there's a constant conversation about media and its role in the development of the music itself. Great read!
+ Learn more: Check out our brand new free course on home recording, Demo Recording 101!
I'll Never Write My Memoirs, by Grace Jones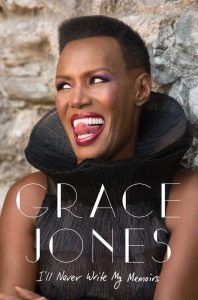 Grace Jones revolutionized pop and disco, and not to mention the image and sound of femininity in those worlds. This memoir doesn't just cover her musical career, but delves deep into her religious upbringings in Kingston, Jamaica and Syracuse, New York, her youth in the New York club scene, and her troubled relationships. As a model, she became close with fashion photographers in Paris and New York as well as designers Giorgio Armani and Yves St. Laurent, and she even dated Dolf Lundgren. She's got stories, and if you're a fan of her music, her lifestyle, and her outlook on the creative industries she has bulldozed for 40 years, please check this out!
Don't Suck, Don't Die: Giving Up Vic Chesnutt, by Kristin Hersch
Vic Chesnutt's music has touched me deeply for most of my adult life. The Athens songwriter was paralyzed and wheelchair-bound for his entire musical career, and with limited use of his hands with which to play his guitar, his lyrics became magnificent volumes of thought containing the ability to transport listeners wherever he himself wanted to go. His music was championed by Michael Stipe and many others in the Athens scene, as well as many other artists around the world. In 2009, on Christmas Day, Chesnutt died of an overdose of muscle relaxers. Kristin Hersh, a member of the influential band Throwing Muses, has written an utterly boundless account of her friendship with Chesnutt that includes the good times and the bad times and everything in between. She leaves nothing out. And despite the glowing air that has surrounded his music since Chesnutt's death, Hersh feels compelled to tell it like it was, who he was from day to day, delving deep into his troubled life both inside and outside of music.
Detroit '67: The Year That Changed Soul, by Stuart Cosgrove
Detroit in the 60s = Motown. Hitsville USA. The glory days of soul music and flower power was at an all time high in the mid-60s. But in 1967, everything started to change. Social justice riots and Vietnam War protests hit the streets hard, the Supremes broke up, LSD arrived, and the songwriting hit squad of Holland-Dozier-Holland left Motown to move to Los Angeles, destroying the label's empire from within. What happened? Detroit 67 has the whole story.
+ Learn more: Explore the history of the blues and learn how to integrate a blues tone into your own playing with our free course, A Conversation with the Blues.
Every Song Ever, by Ben Ratliff
Celebrated New York Times music columnist, Ben Ratliff, dives deep into how we listen to music now. Our phones now have the capacity to hold everything on our record shelves, but all this unlimited choice has actually led us to shortening attention spans and the full-length record is slowly dying. Ratliff's new book covers every genre at once, so there's always a point of entry for any casual reader. I opened up to page 168 randomly and was confronted with mentions of BB King, Isotope 217, Pere Ubu, Sonny Sharrock, The Boredoms, Joe Lovano, Kamasi Washington and the Allman Brothers.
We've Come So Far: The Last Days of Death By Audio, by Ebru Yildiz

Ebru Yildiz's forthcoming photography book documents the last 75 days of Brooklyn's iconic DIY music and arts space Death By Audio, leading up to its closure in 2014. The last days of DBA are also documented in a film shot by one of the venue's co-founders Matthew Conboy, called Goodnight Brooklyn: The Story of Death By Audio. During its last months, DBA curated some of the most densely-packed, raucous, and phenomenal bills in the history of Brooklyn, acknowledging the legacy of a venue where so many now-popular bands played before anyone knew their name. Bands like Future Islands, Dirty Projectors, Ty Segall, A Place to Bury Strangers, Thee Oh Sees, Jeff the Brotherhood, etc. were given the stage in their early days because of DBA's commitment to the artists over commercial interests. What makes this series of photographs so legendary, in part, is that this basically no longer exists in Williamsburg, nor anywhere in New York City west of Bushwick. Yildiz's book comes out soon and is available to pre-order now. Check out some of the photographs here.
Small Town Talk, by Barney Hoskyns
Hoskyns' re-telling of the musical past-life of that quiet little town in upstate New York, falsely bombarded with praise after the first Woodstock Festival in 1969 actually occurred over 60 miles away, has been described as a socio-cultural history on the town everyone thinks they know but whose real story has yet to be told. In other words, the author covers the true events that occurred in Woodstock in the early-mid '60s, and the impact they had on the artists, as well as the fans, for years to come. Bob Dylan's famed 1966 motorcycle accident, the influx of so-called "hippie-capitalists" following manager Albert Grossman and his artists, The Band and Janis Joplin, up to the countryside, as well as run-ins with Van Morrison, Jimi Hendrix, and Karen Dalton line the pages of this book. It kind of makes you wish you could go back in time.