+ Bridge the worlds of theory, improvisation, and jazzy hip-hop, and improve your piano chops with Grammy-winner Kiefer in his course, Kiefer: Keys, Chords, & Beats.
As a piano player, I used to detest the idea of digital pianos replacing the need for acoustic craftsmanship. While I still think that there will never be an equal experience of hearing a Rachmaninoff sonata in Carnegie Hall, the advancements in digital piano sounds over the past decade have challenged my old-school beliefs.
Before we get started with the best virtual studio technology (VST) piano plugins out there, it's important to note that the results are completely dependent on the physical digital piano you're using. A $500 plugin won't sound anywhere near where it's intended to with a $100 unweighted keyboard. Additionally, since we're talking about high fidelity, the headphones and speakers you're working with are extremely influential in discerning the nuances in the products mentioned below. Lastly, your computer's available CPU and onboard processing can affect the potential quality of certain plugins, so you'll want to minimize unnecessary strain (i.e., minimized browsers, multiple programs running simultaneously, or any added effects).
With that, let's get to the top plugins for getting amazingly realistic piano sounds!
1. Ivory II Grand Pianos by Synthogy
Synthogy has taken over the virtual piano market, redefining what capabilities were previously imagined and pushing the boundaries of recreating realism. This is the closest you'll get to an acoustic piano sound, and even professionals can't always discern the differences.
The Ivory II package is a sample-based plugin with a massive 77GB of sounds including Bösendorfer's 290 Imperial Grand, Steinway's D Concert Grand, and Yamaha's C7 Grand. There are 18 discrete velocity layers, customizable user controls for timbre, stereo width and perspective, velocity response, mechanical key noise, lid position, note release trails, tuning tables, EQ, and even note release samples. Simply put, these are the best piano sounds you can get from a computer.
Price: $349. Note: This product requires an iLok key ($49.99 if you don't already own one).
2. Ravenscroft 275 by VI Labs
VI Labs successfully created a cheaper competitor to the Ivory series. What I love about Ravenscroft is the versatility it offers, keeping up with jazz, pop, and classical genres with ease. It has around 17,000 samples that provide hefty dynamic contours and react to one another in real time. While this lacks some of the user-defined settings of more expensive options, it boasts unique features such as silent strike and pedal resonance. Putting on quality headphones and practicing using this plugin will transport you to another world.
Price: $199. No iLok authorization required.
3. Addictive Keys by XLN Audio
Addictive Keys makes four digital piano plugins, each with totally unique sounds. My favorite is the Studio Grand, which was recorded in a large recording studio at the Swedish Broadcasting Corporation. This studio is famous for being extremely quiet and having a controlled acoustic ambience, making the piano sounds tight and airy. Whether you're just practicing for a concert or you're recording quality tracks to demo on your SoundCloud, this plugin makes you feel like you've teleported to one of Sweden's premiere recording facilities.
I love the ability to preview the different sounds with recordings without having to load them and actually play something. My hope is that XLN will take its genius to other studio spaces to give users more customizability, but the out-of-the-box presets and editable parameters allow for a great deal of room to suit your needs.
Price: Try out the free demo! I'd recommend the Studio Grand ($89.95), but you can purchase your choice of three pianos from four in a bundle for only $179.95.
+ Read more: 8 Bedroom Producers You Need to Know Right Now
4. Alicia's Keys by Native Instruments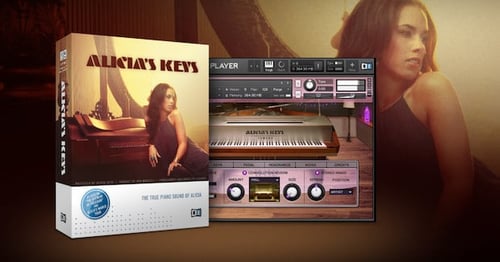 This is the perfect fit for pop songwriters and producers. It has 17GB of samples and 12 velocity layers per key, allowing for emotional performances. If you want to hear how transparent this piano is within the framework of a record, look no further than Alicia Keys' The Element of Freedom. Though not as expressive as the other digital pianos on this list, it's a charming sound that fits within most R&B, pop, or even rock mixes.
Price: $99. Note that it's only compatible with Native Instruments' Free Kontakt 5 Player or Kontakt 5 ($399).
5. Pianoteq 5 by Modartt
No joke, I used the free version of this for projects for my entire first year studying at Berklee College of Music. Pianoteq uses a physical modeling technology, so you're not hearing samples, you're hearing a calculation of a piano sound with several parameters. The most convincing emulations are the Yamaha D4 Concert Grand and the Blüthner Model One. I love the ample features like string impedance, mic position and type, and hammer action. There is a calibration feature that, although time consuming, allows you to customize a velocity curve that is compatible with the keyboard you're working with. Due to this, there's great dynamic control, and it gives a lot of room for expressive performances. It's a great compromise if your keyboard doesn't have super-sensitive touch controls.
Price: Try it for free, purchase any standalone VST piano model for $59, or choose two pianos in the standard package for $319.
Don't stop here!
Keep learning about theory and harmony, composing and arranging, songwriting, and more, with Soundfly's in-depth online courses. Subscribe for access to all, including The Creative Power of Advanced Harmony, Orchestration for Strings, and our exciting new course with Grammy-winning pianist and producer, Kiefer: Keys, Chords, & Beats.
—
Caleb Hsu is an independent vocal producer and freelance recording engineer based in Los Angeles. As a classically trained pianist and composer, he enjoys writing music technology features that combine his psychology background with current industry trends.