style="text-align: center;">New course announcement!
Producers of all genres, welcome! We live in the most exciting, innovative, and fastest-growing era of music production since the invention of recorded music. With all of this technology and possibility at our fingertips, it can be easy to forget that we're still in the business of writing songs.
That's where our latest boundary-pushing online course, Songwriting for Producers, comes in.
Taught by the immensely talented professional songwriter, composer, and digital producer Will Marshall, this course will help you push your songwriting skills closer to your production skills, and give you the ability to visualize commercial-market-ready versions of your tracks. Whether you're working in Ableton Live, Logic Pro X, FL Studio, or any other DAW, you'll find a ton of songwriting strategies, practical arranging skills, and production techniques to help you understand how to make better songs.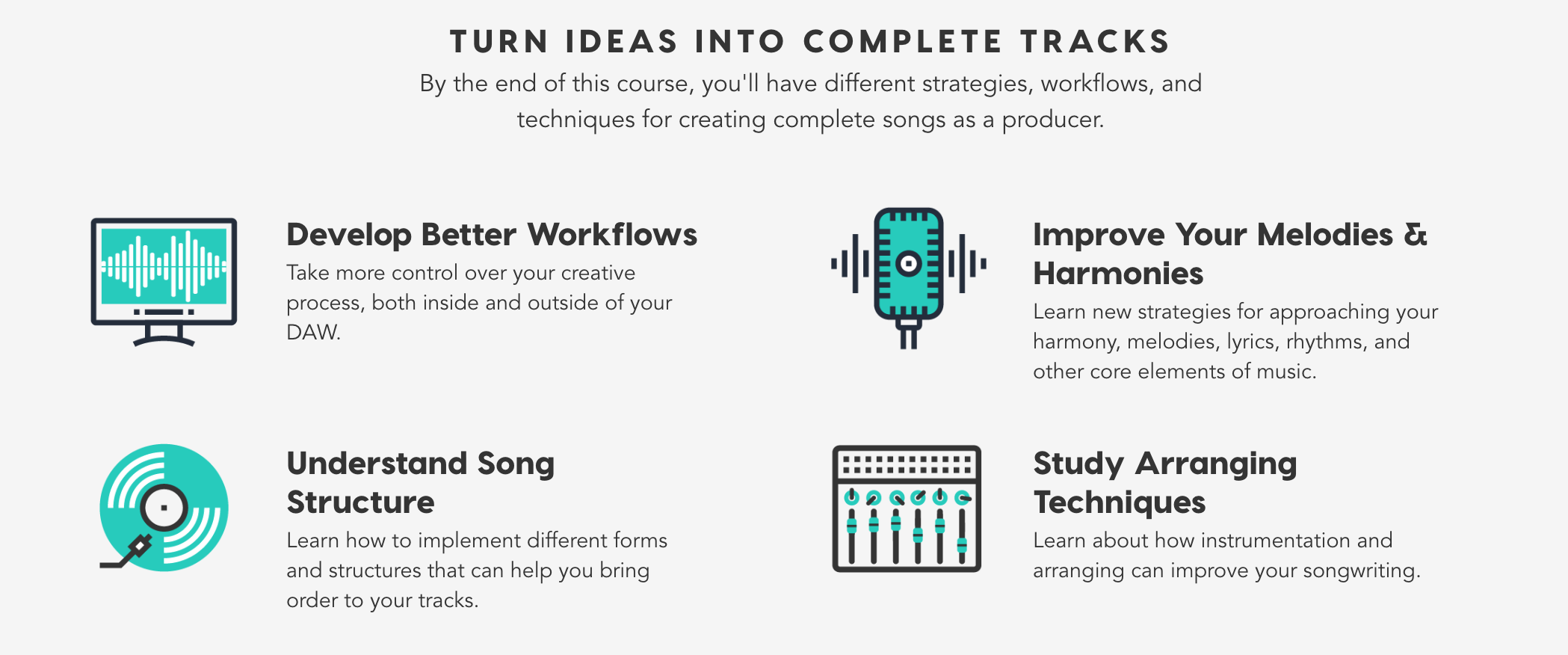 As modern producers, we often sit down and immediately start fiddling with sounds, searching for a patch or instrument that we hope will inspire us to write something great. Even as listeners, we don't often take the time to break apart a recording into its two major elements — the song and the production.
Song first, production later: this is a theme that we'll see come up over and over again in Songwriting for Producers. Your personal workflow is something that you'll ultimately design and modify, but the important thing is to remember that the writing will be easier and your song will be stronger if it starts with a core idea.
Learn more and preview a full lesson in Songwriting for Producers today. The course officially starts on March 5, 2019, so get on it!
Meet the Instructor
Will Marshall is a singer, composer, producer, pianist, synthesist, engineer, and educator. As a composer and producer, Will's current focus is on his solo project, noise, where he draws inspiration from art-pop, industrial, classical, electronic music, jazz, and post-punk.
Will has engineered for artists such as Oscar-nominated film composer Nicholas Britell, Grammy-nominated jazz musician Patrick Gleeson, R&B singer Vudajé, experimental composer Augur Duende, and electronic acts Ill Gates, Freq Nasty, and the Fungineers. He is currently consulting mix engineer and producer for Sennie Records in San Jose.
As an educator, Will taught at Pyramind in San Francisco from 2015 to 2018, is a course author at Soundfly.com, and is a well-known authority in the creative applications of music technology. He has written and directed several in-depth educational video series, taught numerous workshops, and accepts occasional private students.
Do It With a Mentor
Subscribe here to get full access to the course content. As a subscriber, you'll get immediate access to the course material to go through it at your own pace. Or, you can request to be paired up with a professional Soundfly Mentor to go through the course with you, 1:1, with feedback and guided support on your work over six weeks (details are inside the course).
The six-week experience includes:
A weekly check-in with your mentor to see how things are going, answer your questions, and offer advice on your work.
Exercises, activities, and challenges designed to help you improve your skills and push you closer to your goals. Your mentor can tweak these to your unique circumstances.
In-depth feedback on your work to help you focus on the areas where you need the most support and get advice on improving your craft.
The ability to ask your mentor any questions throughout the course if you get stuck.
Additionally, you get two catch-up weeks that you can use at any time if life outside of the course get too busy, or you just need a break. Just tell your mentor you want to hit pause, and pick right back up where you left off when you're ready.
Finally, you get lifetime access to our Soundfly Slack chat room, where you can communicate in real time with all Soundfly team members, mentors, and fellow students at any time.
Without further ado, let's get you signed up!