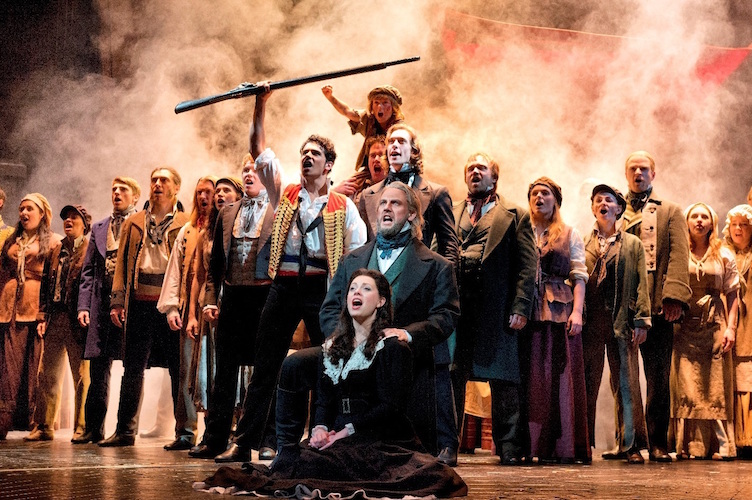 The basic question we're looking at today is: when writing a musical, where do you begin? 
First of all, it's important to know the purpose that music plays in a musical — it serves the story first and foremost.
Once you're clear on the role that music plays, and have a basic story outlined, the next step is going to be laying out some "song posts." Song posts are places in the story where you know, right off the bat, that you're going to want songs. Having a clear sense of these moments may even help guide all your writing going forward. For example, if you know you need a big climactic song at the end of Act One that involves your main character promising revenge, suddenly you've got something to start working on.
One of the interesting things about musicals is that not every song needs to be unique. You can reuse and alter similar musical themes throughout the show for dramatic effect — and it'll actually help engage the audience by giving them familiar moments they can latch on to. A common musical might be built on, say, six to eight main original songs that can be reprised later with alterations and musical interludes in between.
In one of my favorite shows, Les Misérables, the rolling arpeggio theme that begins one of the opening songs "At the End of the Day" is also the main background theme for Jean Valjean's great decision song "Who am I?", which is then slightly altered for the big closing number of the first act, "One Day More". These aren't even reprises technically — just recycled themes that evoke a moment from earlier in the play and give the whole show a sense of cohesion. Similarly, Valjean's "What Have I Done?" is the same as "Javert's Suicide", both big moments of decision for two characters that end in dramatically different ways.
This is obviously good news for composers as it suggests we only need to come up with a couple original tunes that can then be altered, reprised, tailored, or otherwise teased throughout, rather than writing 20-something perfect original songs from scratch.
Now as a composer, one of your first steps is going to be coming up with a list of desired songs from the script (or the book). This will then drive your composing, as you can match various themes to your song list. Our old friend John Kenrick (of Musicals101.com, a wonderful resource on musicals) suggests starting by finding your song posts. A few of these might include:
The Overture
It's not as common anymore, but I personally love the overtures of musicals. They'll often tease a number of the themes that will appear later in the musical and provide this quick overview of what's to come, musically. Jesus Christ Superstar has one of my favorites. That said, this is probably the thing you're going to write last, once you've figured out all the themes of the other songs.
Opening Number
The opening number is meant to set the tone for the rest of the show. If the show is comedic, you want an opening song that will set up those sorts of expectations in your audience. John Kenrick talks about how replacing the opening number in A Funny Thing Happened on the Way to the Forum made all the difference in the show's reception. The first song was a love song that didn't match the rest of the production. It was replaced with a song called "Comedy Tonight", that literally tells the audience they're going to have something for everyone, nothing pretentious or polite, "tragedy tomorrow, a comedy tonight".
It's also a great chance to introduce your cast of characters in a fun way. I personally love the opening number for In the Heights which immediately sets the scene and the tone for a different kind of musical to come. "Hello" in The Book of Mormon is another great example.
"I Want" Song
We talked about this a lot in the previous article, but deciding on a song early in the show that expresses the main character's inner turmoil and motivation is a key moment. This will define the central theme of the plot and set up the conflict to come.
End of the First Act Production
At the end of the first act, you're going to want a song that will leave the audience wanting more — something that rewards them for making it through the first hour and a half but also leaves them with some unresolved tension about what's to come. One of the best examples is "One Day More" from Les Misérables,which involves the entire company expressing their personal conflicts and leaves us literally on the verge of a revolution.
"Eleven O'Clock Number"
The "Eleven O'Clock Number" exists to catch the audience's attention halfway through the second act, which is usually filled with more thoughtful ballad-type songs. As far as I understand it, it's a shot of caffeine during a sleepy portion of the show (it doesn't have to necessarily be upbeat, it just has to grab the audience's attention). Good examples include "Hello, Dolly!" from Hello, Dolly or "Sit Down, You're Rocking the Boat" from Guys and Dolls.
Finale
You want to leave your audience on a high note. Shakespeare used to end most of his comedies with a wedding to give the audience a sense of resolution, and musicals can take a similar approach. Mamma Mia! ends with three weddings! Other musicals use the finale as their chance for a final comment. At the end of Les Misérables, all the characters, even those that died, return to the stage for one last contemplative dream for a better world.
Once you establish those song posts, you can begin filling in the various songs in between with the other needs of your story.
What do you think? Are there other important song posts that musicals should have? Share them in the comments below!
This is part 3 in our series on how to write a musical. Click here and here to see what you've missed!