+ Explore Soundfly's range of courses on chord progressions, songwriting technique, vocal production and more. Subscribe for full access here.
Nothing really beats the breathy dreaminess and lo-fi bliss of the bedroom pop songwriter. With most musicians going DIY these days and creating their music from scratch right in one's own home studio, this genre has been expanding rapidly over the past few years.
Plus, with the COVID-19 pandemic, we're seeing even more artists set up shop at home and bringing their unique sound into the creative vacuum of their personal domestic space. "Bedroom pop" no longer just means sultry, lo-fi indie pop anymore…
Now, it encompasses pretty much every imaginable genre, with elements being borrowed from instrumental and lo-fi beat making, chamber pop, and hip-hop.
So rather than depend on an algorithm to try to get introduced to some of the best and most creative artists out there right now, we figured we'd profile some of our favorites. Here are nine bedroom pop artists we're loving right now.
But first, for all you singer-songwriter-producers out there, Soundfly recently launched an exclusive online course with Kimbra, in which she herself demystifies her variety of vocal techniques and the creative inspirations behind her most beloved songs. Check out this awe-inspiring course, Kimbra: Vocal Creativity, Arranging, and Production on Soundfly.
Beabadoobee
You may recognize her voice from Powfu's hit song, "Death Bed." With a combination of stunning vocals and enchanting melodies, Beabadoobee is one bedroom pop artist you don't want to sleep on. Her voice actually makes up the sample in "Death Bed," and originally comes from her song, "Coffee."
I love both the original and Powfu's reinvention, because both show off her ability to use conversational lyrics to create universal, emotional textures.
"Don't stay awake for too long,
Don't go to bed,
I'll make a cup of coffee for your head,
I'll get you up and going out of bed,
And I promise that one day I'll feel fine,
And I promise that one day I'll feel alright."
For other great tracks by her we recommend checking out "If You Want To," an ode to the struggles of mental health, and an invitation to someone that they don't have to go it alone — written in that casual yet confident way that only Beabadoobee could pull off.
"If you wanna take me,
Go ahead and try my head,
Experience is nothing compared to,
The sleep paralysis in my bed,
If you wanna love me,
Try to get inside my brain,
Experience is nothing compared to,
The nights I'm always up so late."
Audrey Mika
With undeniable vocal power and a knack for creative and inspiring lyrics, it wouldn't be right to continue this list without including Audrey Mika. Mika started gaining the attention of fans on YouTube where she posted videos of herself singing into a toy pink microphone. Since then, she's amassed over a million followers and tens of millions of views on her content across multiple channels.
Her most recent single "Safe With Me," produced with Gryffn, is a must listen, and one can only imagine this blasting through Super Bowl speakers in the near future.
"I want somebody to say to me,
'Come lay with me, you're safe with me',
I want someone to come through for me,
Hold tight to me, finally,
I want somebody to wrap me up in the middle of the night, yeah,
Stand tough, tell me everything's alright,
Who'll say to me, oh, say to me,
'You're safe with me,' tell me, 'You'll be safe.'"
Another great example of Mika's attitude, lyrical talent, and vocal ingenuity is "Y U Gotta Be Like That," a song which she says is "a response to people that tell lies and rumors." It truly showcases what makes Audrey Mika such a beautifully unique artist.
"I just set the record, baby you are not the one (not the one),
Tell the other girls I'm not an added in plus one (yeah),
Why did you spread all those rumors,
Trying to match all conclusions."
Girl In Red
Norwegian indie-pop singer-songwriter and LGBTQIA+ icon, Girl In Red, is known for her anthemic music, covering topics as far-ranging as romance and self-love to depression. Amassing a hundred million streams on a couple of her top songs, it's clear Girl In Red has enchanted more than just a small audience with her songs.
From masterfully crafted hits like "We Fell In Love In October," Girl In Red sings her story in a way that feels so genuinely honest, with enough detail to transport you right into her world.
"Smoking cigarettes on the roof,
You look so pretty and I love this view,
We fell in love in October,
That's why I love fall,
Looking at the stars,
Admiring from a far,
My girl."
Her most recent single, "Two Queens In A King Sized Bed" was released this past November, once again showing off her ability to transport you into her imaginary world with lines like:
"Two queens in a king-sized bed,
Like angels in the snow."

And:
"They're so pretty, it hurts,
I'm not talking 'bout boys, I'm talking 'bout girls,
They're so pretty with their button-up shirts."
Check her out if you haven't yet.
+ Learn production, composition, songwriting, theory, arranging, mixing, and more; whenever you want and wherever you are. Subscribe for full access!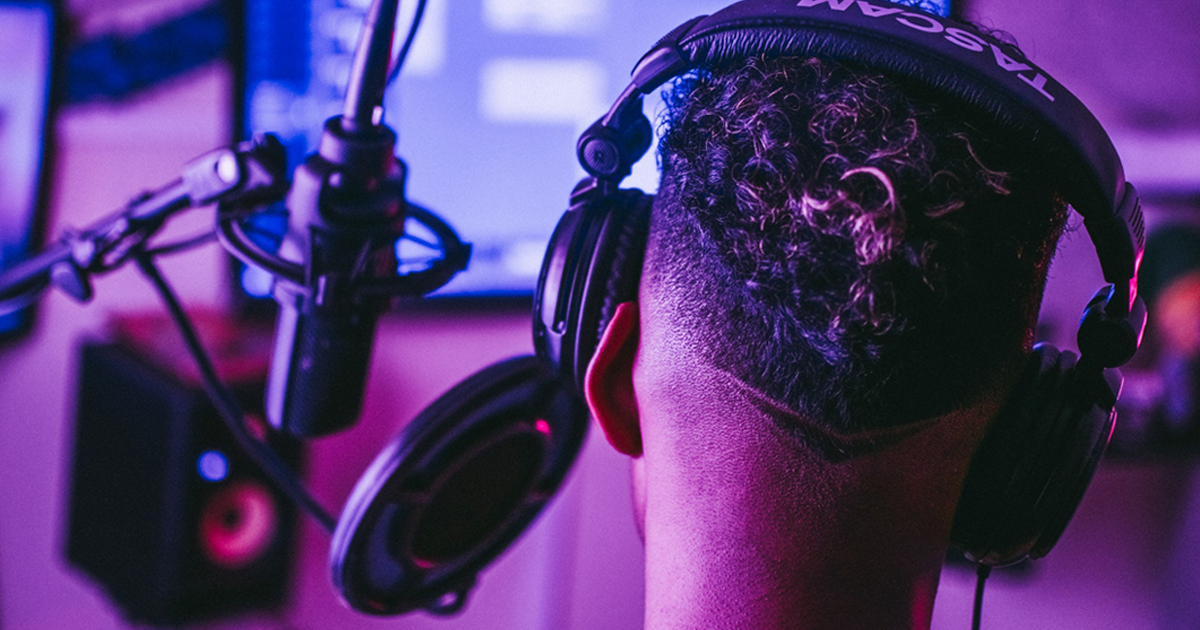 Clairo
Clairo has been posting music online since she was 13 years old. Now at age 22, it's no surprise that she's gained quite an enormous following with her captivating lyrics and ethereal voice. With incredible concepts and mind-bending vocal clarity she's another must-listen artist on our list. "Sofia" is an example of her conceptual ability, too, managing to fit so much loaded meaning into four lines:
"I think we could do it if we tried,
If only to say you're mine,
Sofia, know that you and I,
Shouldn't feel like a crime."
Another example of this concept-driven mastery comes in her super lo-fi song "Bubble Gum," about regretting not kissing her love interest and blaming her not-yet-fully realized emotions on a piece of gum that had been in her mouth.
"Sorry I didn't kiss you,
But it's obvious I wanted to,
Bubble gum down my throat and it's a curse,
But my luck couldn't get any worse,
'Cause I swallowed the bubble gum,
Oh, and these seven years will be pretty dumb,
Pink flowers grow from my skin,
Pepto Bismol veins and I grin."
omgkirby
With an Instagram bio stating "I make music to cry, sleep and study to," honestly if that isn't the calling card for exactly what you need right now, you're probably reading the wrong list. (We joke, we joke. Sort of.)
Courtesy of that silky voice and just a hint of hip-hop swagger, songs like "Deep End" (a warning not to push too far) showcase the incredible ability at omgkirby's fingertips, and the variety of ways that two lines can hit beautifully and differently throughout a song.
"I've been trying not to go off the deep end,
I don't think you want to give me a reason."
Another example of these skills is omgkirby's incredible version of "Let Me Love You," which shows off an incredible range of vocal production tactics and technical ability, as well as his talent for creating a beautifully reimagined production to a classic song.
Miko
Miko is an up-and-coming artist with a voice like butter, and a unique metaphorical vision that keeps us coming back song after song. One of our favorites of his, "Credit Cards and Broken Hearts," pairs his incredible voice with hooky melodies and clever tongue in cheek lyrics such as:
"What if 6 was 9,
Working 9 to 5,
What if I was blind,
Stepping out of line,
Credits cards and broken hearts,
Livin' like a super star,
Searching for an answer,
When nobody knows the question."
One of our favorite things about Miko's work is the way he twists everyday objects, ideas, and colors into new meanings. Another example of this masterful use of metaphor is his song "Crushes."
"I got crushes,
They're more like crutches,
And my heart's got a broken foot."
Comparing one's heart to a broken foot that needs crutches? Absolute brilliance.
Sophie Meiers
With songs like '"Come ovr" and "Wish You Still Felt That Way" becoming instant favorites on the internet, Sophie Meiers combines the best of that lo-fi bedroom pop sound with the clarity and heaviness of radio-friendly pop production and melodies that won't leave your head for days. Plus, to pop out the lyrics of "Don't Be Scared," their use of simile mixed in with universal feelings of nervousness when you develop feelings for someone, brings it to another level.
"You set yourself apart from the rest,
You're like the nervousness in my chest,
You're the way I lose my breath,
You're the one who's there when there's nothing left."
Another reason we love Meiers is how much fun they have with lyrics. Five seconds into the song "Cheesin," we were sold. One of our favorites of their more recently released tracks, this one features the tag:
"Now I'm cheesin' when you blow past yea,
If you take a slice of me that's all alright with me."
This kind of whimsical and yet sensical lyric fills all of these songs and is one of the things that sets Meiers' music apart from other artists in the genre.
Sky McCreery
Bedroom pop artist and Tik Tok star Sky McCreery has captured the hearts of millions of listeners. One of the things we dig about his work is the emotional intensity and depth of the topics he chooses to write about. One of his biggest songs is "If You Leave," where he pleads with someone to realize how important they are to him, and begs them not to leave with an intensity well beyond his mere 19 years of age.
"I know you feel lost,
Like no one can find you,
You're puzzled in pieces,
That I'm trying to face."
His most recent EP, Things We Don't Talk About, features (you guessed it) more of these deeply emotional topics, with the first song, "I Remember," tackling the realization that the relationship he's in is no longer a place where love exists.
"Out in the dark, down in the pavement,
For some reason, I feel amazing,
I don't know why, maybe it's the sudden rush?
Closing my eyes, I don't see a damn thing,
Open them up, maybe it's a bad dream?
Come on, baby, this isn't love."
I mean, c'mon — that brings me to tears in all the best ways. Check out his work on Tik Tok, Spotify, or wherever else you like.
RICEWINE
Australian singer and guitarist RICEWINE has a sound that beautifully blends indie rock and bedroom pop, and it simply leaves you wanting more, every time. His song "Maybe" immediately captured our attention with it's genre-defying mix of soothing surfy instrumentals, clear yet softly sung vocals, and cyclical, to the point lyrics.
"Baby you are something,
They'll say you're not full,
Do you know what I know?
Do you feel this low?
Hold me to my own words,
Hold me don't let go,
Maybe we're not broken,
Maybe I don't know."
Looking for something a little more instrumental heavy? RICEWINE has got you covered there too, with his most recent EP, Delicious, No Worries, which features primarily instrumental tracks produced with the same lo-fi feel.
We love listening to these tracks both while working and relaxing at home (is there even a difference anymore?). And we think you will too.
If we missed any bedroom pop artists we absolutely need to know about, please mention them in the comments below.
Don't stop here!
Continue learning with hundreds of lessons on songwriting, mixing, recording and production, composing, beat making, and more on Soundfly, with artist-led courses by Ryan Lott, Com Truise, Jlin, Kiefer, RJD2, and Kimbra: Vocal Creativity, Arranging, & Production.