+ Welcome to Soundfly! We help curious musicians meet their goals with creative online courses. Whatever you want to learn, whenever you need to learn it. Subscribe now to start learning on the 'Fly.
It's like the late Chris Cornell used to say: "Don't you lock up something that you wanted to see fly." For years, Emmet Otter's Jug-Band Christmas has been trying to open its wings to take flight despite various obstacles blocking its path to Holiday Classicville. After some recent events and a trend upwards over the past few decades, though, it's safe to say we're finally there.
In the words of the singing otters themselves, "The river has met the sea," after all.
Last month, the famed Jim Henson puppet musical special received its first-ever CD soundtrack, providing us with 16 pieces of musical greatness courtesy of song-craft master Paul Williams — some 40 years after its initial release. To take it a step further, on December 16, certain theaters across the U.S. will be pairing it with The Bells of Fraggle Rock Christmas special to give it its long-deserved big screen debut.
Let's just say this: Emmet Otter is the Pinkerton of the Henson canon. It's taken a while for the world to catch up to how brilliant this production is.
Emmet Otter originated in 1977 as a televised special in Toronto for the CBC. Henson recruited pal Paul Williams to create music for the special after the two became friends working on The Muppet Show. The two also worked together on The Muppet Movie two years later, which earned Williams an Oscar nod for "Rainbow Connection," and probably cast an even longer overshadow for the poor otters to have to escape on their path to celebrity, but I digress.
Anyway, Emmet Otter arrived in the U.S. on HBO in 1978, and received heavy broadcast time here. Unlike the aforementioned sophomore effort by Weezer, which miffed fans and critics at the time of its release, the show was actually quite well received. It was praised for its killer songs and musical contemporaneity, brilliant costumes and sets, and its then-revolutionary puppetry innovation which included a mix of hand puppets, marionettes and radio-controlled puppet effects. It also scored four Emmy nods, and was likely handed some free street cred because it was narrated by Kermit the Frog.
Let's pause for a second to listen to the fantastic jug-band song, "Bar-B-Que." It was basically unparalleled in the Muppet universe for its regional-specific execution — featuring the opening lyrical line, "When you meet somebody that don't like soul food, they still got a soul."
Viewers adored the storyline about Emmet and his "Ma," a hardworking tag-team going it alone in Frogtown Hollows. He's a loving son who takes odd jobs for money and she's a hardworking widow who does laundry for others and makes ends meet by selling what she can. In a Gift of the Magi twist of fate, the pair enter a talent show that pays $50 in the hopes of buying each other store-bought holiday gifts for a change.
Emmet puts a hole in his mother's washtub to create an upright bass for a jug-band with his buddies, including mashed-potatoes-lover Harvey Beaver, while his mom hocks Emmet's tools for fabric to make a dress. Their song "Ain't No Hole in the Washtub" is a wonderful reflection of their familial rapport, in life and musical collaboration alike. But standing in their way is the Riverbottom Nightmare Band, arguably the coolest bad boys in Muppet lore — a West Side Story-esque gang of ragtag Riverbottom bottom-feeders including Chuck "Look at the birds up in the trees" Stoat.
After numerous HBO airings throughout the 1980s, the show all but disappeared. Maybe it wasn't popular; maybe Floyd Pepper didn't want to share his precious rock stage spotlight. The Henson family legal battle didn't help either. A victim of the Disney/Muppet acquisition of 2004, Kermit the Frog's inclusion in the program proved problematic. I could tell you more but it may spoil your childhood, so feel free to follow this rabbit hole of "edits" to Kermit's involvement at your own leisure.
Basically, all of Kermit's scenes were eventually removed from the show's various television broadcasts, though many were brought back for the 2015 DVD release.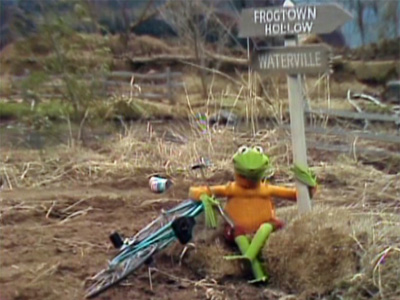 Thankfully, the drama is finally over. We can enjoy the great lost Christmas program in our home, in theaters (if you're lucky), and in the comfort of the classic songs it left us with.
Improve all aspects of your music on Soundfly.
Subscribe to get unlimited access to all of our course content, an invitation to join our members-only Slack community forum, exclusive perks from partner brands, and massive discounts on personalized mentor sessions for guided learning. Learn what you want, whenever you want, with total freedom.