For the last three months I've been doing something I rarely do: watching the news. Not only have I watched the news, but I've watched on a semi-regular basis. This is a huge step for someone who admittedly keeps abreast of world events through his Facebook timeline. However, after a self-imposed exile from mainstream television news, I returned. After three months, I can honestly say that I'm ready for another break.
If you've been following recent world events then you may have noticed that things seem to be getting a little strange. Between climate change causing massive fires in California and record flooding in Louisiana, police killings of unarmed civilians, armed citizens killing police, terrorists attacking major cities in Europe, Turkey's five-minute revolution, Syria, Prince dying, and the Brexit, things just seem a little wacky. Not to mention that the eccentric billionaire and former reality TV star Donald Trump is the Republican nominee for President. Although it hasn't yet been confirmed whether or not he's just trolling the American public, the general consensus amongst a reasonable percentage of the population is that we're in trouble.
So yeah, we're a bit stressed out over here in America.
However, there may be a solution to help you find peace amidst the madness. For hundreds of years, leaders around the world have understood the connection between music and mental health. In the tradition of western classical music, many of the famous composers, including Bach, Mozart, and Beethoven, were hired by the nobility of the time to compose and perform works for various occasions. Bach famously composed the Goldberg Variations for Count Keyserling, who suffered from severe insomnia. Goldberg was the Count's personal pianist tasked to play him to sleep every night.
In more modern times, American Presidents have invited popular musicians to perform at the White House. The US State Department has also spent billions of dollars over the last seven decades to send musicians around the world as cultural ambassadors. What is it that world leaders and diplomats know about music that we don't?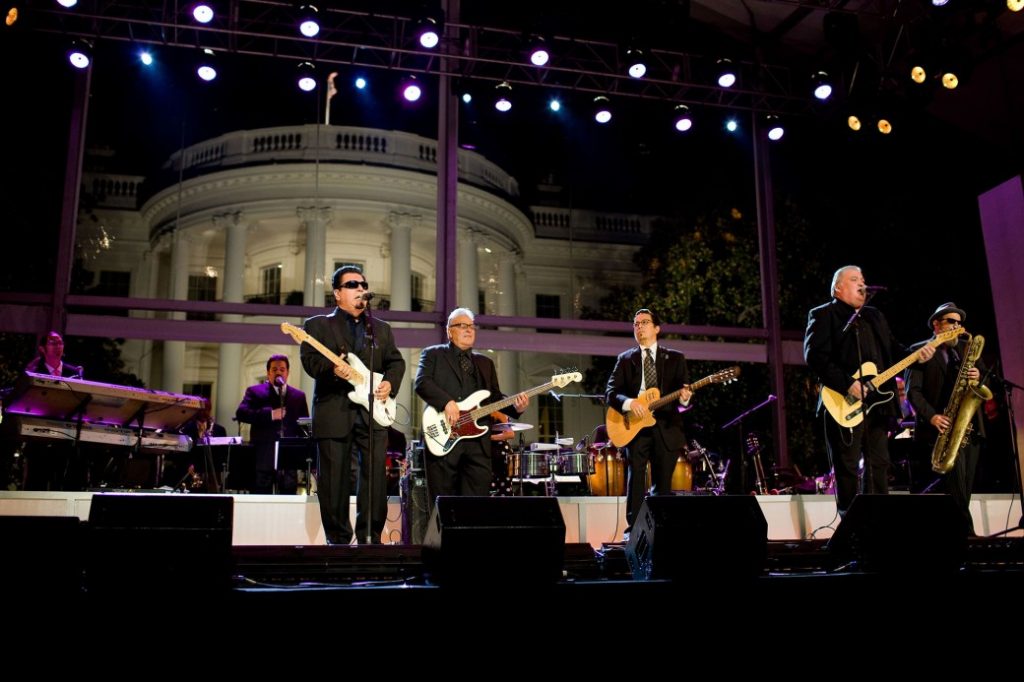 If you've ever gone to a great concert, heard a life changing album, or seen a DJ spin a set that kept you dancing all night, then you know first hand how music can effect your mood. Now, in the era of digital music streaming services where consumers have the power to have millions of songs in their pocket, what you listen to is more important than ever. Streaming services such as Pandora, Apple Music, Spotify, and Tidal hire experts to curate playlists based on moods, artists, and genre. Their aim? To tailor an experience that keeps you using their service. If these companies are willing to invest the time and resources to customize music for you in hopes that you'll pay somewhere between $10-20 a month to use their service, then there must be a reason.
Last week President Obama released his summer playlist for the second year in a row to critical acclaim. The playlist, which includes two individual "Day" and "Night" mixes, was the most listened to independent playlist on Spotify. The wide range of artists and genres included everything from The Beach Boys and Chance the Rapper, to Miles Davis and Fiona Apple. Given all the things that I'm sure the President has to worry about, I think it's incredible that he finds the time to curate playlists that seemingly have no underlying political agendas. In fact, these playlists show the eclectic taste of a man who's had the hardest job in the world for the last eight years and managed not to lose his mind.
+ Read more on Flypaper: Get caught up on the month's music industry news and what it means for independent artists with our "Music Publishing News" roundup!
President Obama's 2016 Summer Playlist: Day
President Obama's 2016 Summer Playlist: Night
Upon further analysis of these playlists I can say three things with certainty:
President Obama is probably one of the few Presidents in history who could sit in a room full of musicians and talk shop.
The Obamas definitely have a healthy love life.
Secret Service drivers probably have very little control over the aux cord anymore.
First, there are so many musical gems on these playlists it's impossible to list them all. They include obscure soul cuts like "Trapped by a Thing Called Love" by Denise LaSalle, the live version of "My Funny Valentine" by Miles Davis (heralded as a classic recording by jazz musicians), and a live cut from Brazilian composer and activist Caetano Veloso. Not to mention he is probably the only person who voluntarily listens to Wale. I'm sure the President could have a lengthy discussion about the lifework of Charles Mingus, Nina Simone, or Billie Holiday, all of whom are included on these playlists. He probably has an interesting top five emcee list as well, as he included Common and Jay Z on this compilation (not to mention he's a big fan of Kendrick Lamar).
Although both playlists are dominated by jazz, soul, R&B, and hip-hop, the mark of any good playlist is its ability to expose listeners to a song they may have never heard before. I have to admit that I wasn't familiar with Edward Sharpe & The Magnetic Zeros or Gin Wigmore before listening to the President's selections. Good look Prez!
+Learn more: Ever wanted to learn to read music? Now's your chance. Our free course How to Read Music will get you started in under an hour!
Second, well… anytime you have Anthony Hamilton, D'Angelo, Corinne Bailey Rae, Lizz Wright, and Velvet Rope-era Janet Jackson on the same playlist, the options for what type of activities can accompany this music are limited. It's clear how he got through the difficult moments of his presidency, and I'm not mad at him. For anyone not familiar with the artists on the nighttime playlist, it's basically Sexy Music 101 (Raise your hands if you hope Soundfly will turn that into a course!).
Third, it's clear to me that the President knows how to have a good time. Based on the prestige of his position, if I were driving the Commander-in-Chief around I might try to play some relaxing jazz or classical tunes. I would instinctively steer clear of the Wu-Tang Clan, Nas, or Jay Z. Although based on these playlists, I can see the President politely insisting that the driver "pass the aux" and then proceed to play " I'll Be There for You/All I Need to Get By" by Method Man and Mary J. Blige — the Puff Daddy Remix… The Diddy remix! Let that sink in. The President listens to arguably the best hip-hop love song ever. But not the original version. The remix that contains a Notorious B.I.G. sample. If there's ever been a President with the credentials to lead the free world and DJ your cousin's birthday party, Barack Obama is it.
In a time of so much unrest, why share a summer playlist with the American people, Mr. President? I think it's a reminder for us all to relax and enjoy life. As record breaking heat waves sweep the nation, along with droughts and mass shootings, perhaps the only way one can remain sane is to turn on some tunes and turn off the news. I challenge you all to find songs that mean something to you and play them over and over again. Remember, it's ok to take a break from the real world and just enjoy life, unburdened by the chatter of world events. It is my personal philosophy when you're amidst chaos, peace and serenity are always around the corner.
So without further ado, here are my playlists to help you survive the current political climate (the following playlists reflect my own views and not those of Soundfly as a company). Feel free to share yours!
Everything Is Terrible But You Can't Afford to Have a Mental Breakdown
I'm with Her
Bern Unit
Trump Rally Pre-Game
(PS: Brad Paisley feat. LL Cool J's "Accidental Racist" is not on Spotify but you know that would be on here.)
Third Party (Anyone but Clump)
#blacklivesmatter/Protest Prep
Brexit Playlist
Forget Politics, Climate Change Is Real
Did I miss something? Comment with your playlist suggestions!