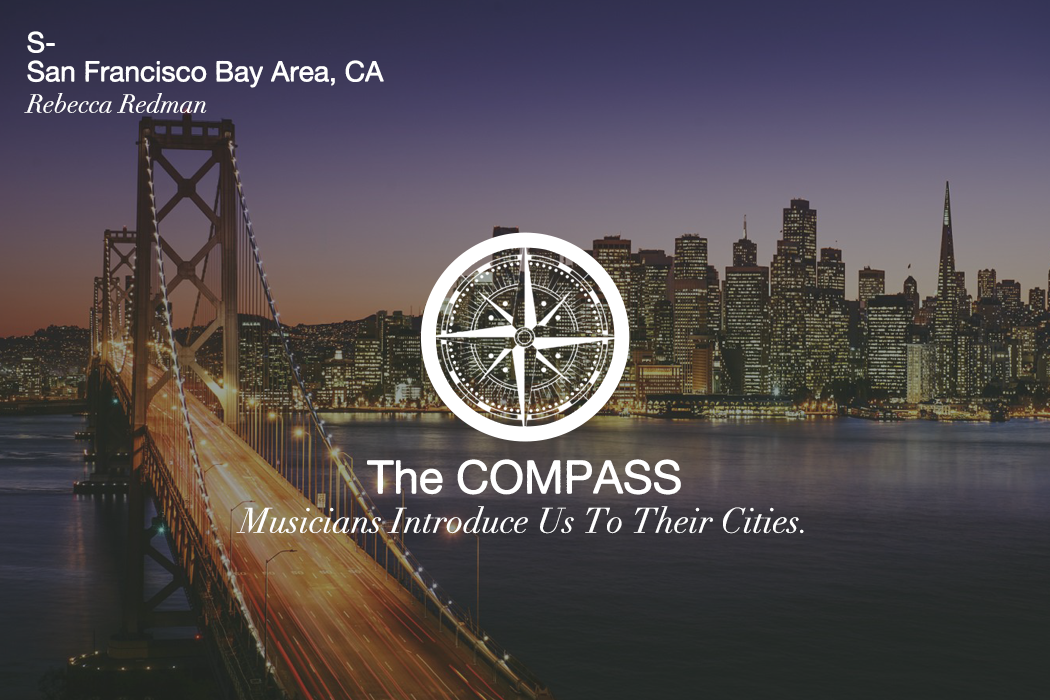 By Rebecca Redman
I moved to the Bay Area from a town where there were only two places to play shows — a garage and a supper club. Unless you could convince someone to let you plug in your amplifier in their living room, choices were slim. Moving up to the Bay Area came with a dramatic shift in live music possibilities and, personally, it feels good to be in a place where I can choose to go to a show (or 2 or 3) every night of the week. Big cities also help one to perceive and interpret space in a different way. People here have learned how to transform basements and backyards and warehouses into beautiful acoustic Meccas, taking nothing for granted.
The community in the Bay Area is constantly nudged in new creative directions as the cost to rent reliable space continues to rise. Tactics are ever-changing and all types of venues are always opening and shutting down. A surprising number of landlords here are mostly ignoring their properties, keeping rent below market, and using this as an excuse to be neglectful. We're trying so hard to keep the art and music alive that we've also been a little neglectful. We're forced to see potential in untraditional event spaces, but we don't always think about safety. It feels like a non-issue because danger is unusual. Disasters only happen on rare occasions and we can push the thought far enough into the backs of our minds to be able to ignore the possibilities. Until, they do happen.
Most people in this country have probably heard about the gigantic, horrific fire in an East Oakland art and music space that was known as Ghost Ship. This tragic event was the worst day in most of my friends and cohorts' lives and it still feels pretty weird and selfish to go to a show and have any fun at all. I feel a little bit weird and selfish even writing about local music spaces, considering the fragile current state of the Bay Area community. One of the things holding it together for most of us, however, is future potential. Now, we're even more protective of the spaces we have; we need them to exist and we need people to feel safe visiting them. I'll focus my tour on the alternative and DIY spaces around the Bay Area, highlighting those who prioritize accessibility and diversity.
In the Bay Area, both fans and artists like to define show spaces by a few certain standards, including but not limited to: proximity to a BART stop or abundance of bicycle parking, statistics of bicycle theft, cleanliness of bathrooms (or maybe this one is just me), height of stage, and the degree to which a venue accommodates random attributes of visual stimulus (fog machines, color-changing lights, etc.). KALX 90.7FM is the UC Berkeley radio station and they deliver a show calendar to their listeners twice a day, always mentioning the accessibility of the space. I really commend them for that. They list shows starting on one side of the bay and then switching to the other, so I'll follow suit.
1234 Go! Records is a record store in Oakland that hosts two or three shows a week. It's the only all-ages commercial space that has an entire room devoted to live music. While the stage may be modest, they boast a pretty great sound system and have a dedicated sound engineer. Another positive attribute is that, because it's primarily a record store, you don't have to worry about convincing a friend to go with you to avoid the awkward-standing-alone-between-bands thing, because you can just browse records! The all-ages aspect is great, too, because the store attracts a younger crowd. 1234 Go! is a place parents wouldn't mind dropping off their high schooler and picking them up at 10pm when the show ends. My inner grandma loves shows that end at 10pm and I love this record store.
+ Learn more on Soundfly: Take your show on the road with our free DIY touring course, Touring on a Shoestring.
924 Gilman is Berkeley's headstrong, long-standing punk venue. It's run by a fairly transient collective of folks who are trying pretty hard to keep it going. They've threatened to shut down countless times because of rent prices, zoning laws, and general bureaucracy, but they're still standing pretty strong. Gilman has a rich history, and a lot of big events (both in size and cultural impact) have happened here. It's a huge space with a basketball hoop in the back and a junk food cart up front. They are all-ages, forever and always. Historically, a lot of Gilman show attendees would head to the nearby, open-late donut shop, but a couple of years ago a Whole Foods opened up, so now people come to shows with kale salads and boxes of gluten-free cookies in tow. Berkeley is funny, and it's interesting to see how the punk community is evolving in parallel with the rest of the population.
Let's talk about house venues. Oakland's got plenty of 'em and all the spots listed below are thrilled to be included in this article. I know because I asked! It's always important to ask people how much advertising they'd like when they open their own living rooms and garages to a varied public for the sake of art and performance, especially now.
Oakland Secret is my favorite new spot in the East Bay right now. The folks there built a stage in the storefront a few months ago and it's quickly becoming one of the most popular options for DIY shows. There is also a room devoted to reptiles, with carefully constructed environments and an aviary where birds live pretty freely in captivity. A house cat roams around, but usually stays away from crowds (which is appreciated by those of us with allergies). The show space doubles as an art gallery, and the music they bring in is particularly diverse, so it appeals to a wide range of audiences.
+ Learn more on Soundfly: Whether you're recording your first demo or a new album, make it sound professional with our new, free course Demo Recording 101!
MALL WALK at The Hole.
The Hole is in Oakland and, although it's a house venue, they make it feel super professional. Every attendee receives a drink ticket at the door in return for their donation. The basement is still just a basement, but they create a makeshift bar-by-donation and it feels nicer than basement shows often are. When you walk in, it's easy to appreciate all the details that went into creating this space. The decorations are deliberate and the hosts are thoughtful.
The coziest place, by far, in Oakland for shows is the Ridgeway House. It's a beautiful house in a nice part of town that is also close to public transportation and the main streets. They host shows primarily for touring musicians and bulk up the bill with fitting local bands. Quieter acoustic music sounds amazing in the all-wood living room, and the couch and rug absorb enough noise for louder full bands to sound great. There's usually a fire in the backyard pit, and there's always plenty of toilet paper in the guest bathroom. The walls are draped with patterned fabric and every event feels like an escape to a small castle.
Dirt and Myrtle Manor both also host great local West Oakland DIY house shows and festivals, such as the annual all-day music and arts event (no)dome. During the festivals, nothing is off limits and at times, you can find bands playing simultaneously in the backyard and kitchen. One time there was even a lone trumpeter on the roof of the house next door. The upstairs is home to an architecturally strange bathroom, a transitory gallery for local artists, and a floor-to-ceiling window.
Bear Bones, Lay Low at The Salt Lick.
The Salt Lick is an art space near Jack London Square in Oakland. It's one of those truly amazing open-air upstairs lofts. They have a half pipe for the skaters and an unfathomable amount of open space for everything else. I've only been there a handful of times, but each time I've noticed specifically that the shows there attract a lot of trans folks and queer people of color. The space aims to be inclusive and non-threatening to all people.
Codornices Park in Berkeley is a beautiful open green space with tons of recreational spots for activity and some hidden away gems to explore, including a sonically-special tunnel that I've used to organize acoustic shows in the past. It's a functional tunnel that crosses the street underground and connects the rose garden to the giant cement slide (pictured above). It's a bit of a trek up the mountain, but it's beautiful and you can hike from the tunnel to a waterfall in five minutes! There's obviously no electricity or anything, so it only really works for acoustic shows. The natural reverb is heavy and bodies only tend to dampen it a little bit.
John Brown's Body at The Rickshaw Stop.
We've been suffering from a lack of all-ages spaces in San Francisco recently. The Honey Hive is an art gallery and the shows are always all-ages. That part of town is a little bit difficult to get to and requires a few bus transfers, but it's usually worthwhile. Some of the bigger San Francisco venues try pretty hard to offer all-ages shows, too, but if you're a youngin', or forget your ID, you'll spend the evening with a big Sharpied "X" on the tops of both your hands.
The Rickshaw Stop and Slim's are holding it down, but it seems like some of the other bar venues could try a little harder for the sake of the under-21 crowd.
Fleet Wood is a small art gallery and screen printing shop in the Tenderloin district of San Francisco. They host live music in conjunction with art openings and it's always a big party. The shop owner convinces her favorite taco truck to park in front of the store and they attract an even bigger crowd.
+ Read more on Flypaper: "Empowerment: From 'Female Producer' to 'Producer'"
Unknown band, photo courtesy of Different Fur Studios.
Different Fur is primarily a recording studio in the Mission District. They host live music on occasion in their homey second floor kitchen area. When you're inside, it doesn't feel like you're in the middle of the city anymore. Almost all the spaces that host live music in the Bay Area are also places people live. Rent for community spaces needs to be somehow subsidized, and this is one of the ways we've learned to cope with the endlessly rising cost of living.
I'm excited about the Pleasure Cove more than any other San Francisco space right now. Like many of the others, the Pleasure Cove doubles as a living space. It's a picturesque warehouse loft with wooden floors and a million indoor plants. You'll find it up a flight of narrow stairs in the best part of the Mission, near great coffee and close to public transportation.
El Rio is a queer bar in the Mission that focuses on non-binary musicians and people of color. It feels super important to have a place that actively promotes the music of marginalized communities in the Bay. The room with the music is separate from the bar, but there's also a large outdoor patio, so it's easy to choose your adventure, and be either a hermit or a social butterfly, or both simultaneously.
If you're looking for the place where the older punk rockers hangout, The Knockout is it. It's in the Mission District near Thrillhouse Records. Shows here start late and end late, so you can't count on taking the train back across the water to the East Bay if you stick with the show until the final chords ring out. If you're in the neighborhood, but don't want to commit to a late, late show, Thrillhouse puts on occasional basement barbecue shows on weekend afternoons. It's a pretty cool place with an active screen printing setup and a small, but welcoming backyard.
My current practice space is in SF and used to belong to both Third Eye Blind and Four Non Blondes. We can't host shows there, although we can host "after parties." (Landlords in San Francisco seem to layout such specific rules for their tenants!) But I had to mention this space, as it's my personal claim to fame. It has a private rooftop and it's really pretty magical!
Unfortunately, DIY spaces come and go pretty frequently, but this can be a good thing, since it keeps the scene fresh!
+ Read more on Flypaper: "Be Your Own Booker: Advice on Booking Shows from NYC's DIY Community"
There are other places out there that would be perfect for occasional music events; we just need to find them and convince them it's a good idea to let some freaks make a lot of noise in there, while maintaining ultra-respectful and grateful attitudes. Nonetheless, there is an exceptional scene here in the Bay Area and it feels good to be a part of it. It's wide and weird and diverse and dedicated and I plan to stick around for a while.
Interested in hearing more about the sounds of cities from the artists who love them? Catch up on the full COMPASS series here.
—
Rebecca Redman is a Persian artist and musician living in Berkeley, California. She plays drums and guitar in a number of San Francisco and Oakland based bands and is one quarter of an artist collective called Subset. Her most trusted companion is a lizard named Goldie (and that rabbit is a friend of a friend!).