+ Welcome to Soundfly! We help curious musicians meet their goals with creative online courses. Whatever you want to learn, whenever you need to learn it. Subscribe now to start learning on the 'Fly.
Have you ever thought about why you have a website? If you can't immediately come up with an answer other than "because everyone has one," then this post is for you.
Not only is your website your home base online, it's also your most direct opportunity to communicate with your audience. When people visit your website, they're interested in you.
Here's how to best take advantage of their rapt attention by strategically arranging your website content.
Create a Clear Call-to-Action (CTA)
You can't sit back and hope fans magically find your new music in the merch store. Show them the way and give them a reason to click!
Pick a goal for your website. Just one. Here are a few ideas to get you started:
Gain email subscribers
Sell music
Promote tour dates
For this post, I'll use gain email subscribers as an example. Craft a clear call-to-action — in this case, something like "Sign up for our newsletter!" — to entice your website's visitors to follow through and fulfill your goal.
Pro tip: Once you have access to fans' emails, you can promote your music and tour dates directly in their inboxes!
Make It Obvious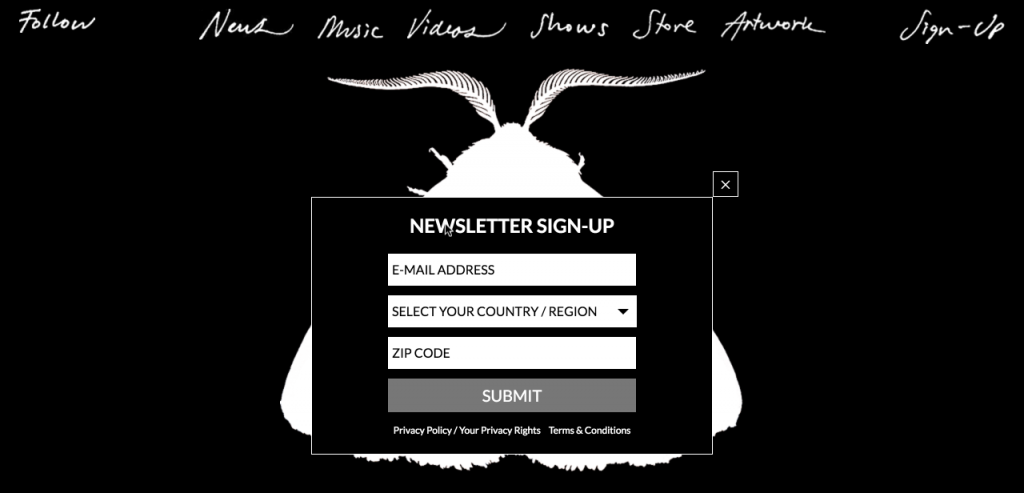 + Read more on Flypaper: "A Label, a Music Magazine, and a Band Weigh in on the Importance of Email Marketing"
Now that you've decided on your CTA, it's time to communicate it to your visitors. The average person will spend only a few fleeting moments on your site, so make it very clear that you want him or her to subscribe to your email list.
To do that, add the sign-up form in multiple places on your homepage. That way, if someone gets scroll-happy, they'll still see your CTA.
Here's how:
Enable an announcement bar at the top of each page linking to your sign-up page.
Offer an incentive — for example, a free music download in exchange for subscribing.
Add your sign-up box in the footer on each page of the site.
Include "subscribe" or "free download" in your website navigation.
Keep Your Website Simple
In order to make sure people take action, keep the rest of your content simple. Don't clutter your homepage with tons of options and social media feeds. Try this arrangement:
Announcement bar linking to your sign-up page
Navigation menu
Large banner image(s)
Social icons and sign-up button
News posts
Short quote or blurb about you
Sign-up form in footer
Social icons
Navigation menu
Want to see this format in action? Check out sarahjarosz.com. Her website earns multiple email subscribers every day!
Create a Sales Funnel
Once you get email subscribers, it's time to engage! Let automation be your friend. Free and inexpensive email list services, like Mailchimp, allow you to set up an automatic welcome email to send to new subscribers. Do you want to boost merch sales? Send out an email automatically once a fan subscribes, and include a discount code to your shop. Want to boost ticket sales? Set up an automatic tour-reminder email.
Get creative! Whatever you do, make the call-to-action very clear and easy for the reader to understand and act upon.
+ Read more on Flypaper: "Proven Content Ideas for the Musician's Social Media Calendar"
Link Back to Your Site
The more traffic leading to your site, the better your CTA will perform. Make sure to continually link back to your site on social media. If you offer a free download for subscribers, promote it often!
Now, check all of your social media platforms. Are you taking advantage of the profile links on Twitter and Instagram? Even better, update your profile bios to say, "Visit the link below for a free song download from the new album!"
Does your Facebook page list your website? Add your website link to your cover photo and profile photo. Also, list your website in your YouTube videos' description boxes, and take advantage of YouTube cards to link back to your website.
Let's recap:
Make sure your website has a clear call-to-action.
Communicate it in a way that benefits your fans.
Echo that same CTA consistantly across all your online platforms.
The best way to get started is to look at the websites of bands you really admire. See whose email lists you've signed up for in past and stayed on, and study their email sign up process and the kinds of content they share in their emails. If you find any examples worth sharing, post them in the comments below!
Want to get all of Soundfly's premium online courses for a low monthly cost? 
Subscribe to get unlimited access to all of our course content, an invitation to join our members-only Slack community forum, exclusive perks from partner brands, and massive discounts on personalized mentor sessions for guided learning. Learn what you want, whenever you want, with total freedom.