+ Producers, Synth Heads and Sci-Fi Nerds, our new course with synthwave pioneer, Com Truise: Mid-Fi Synthwave Slow-Motion Funk, is out now!
You're probably aware that analog synths are all the rage these days. Their resurgence pairs nicely with the nostalgic return of vinyl and cassette tapes, and Walkmans going for $700 on eBay. But this isn't just about old Rolands and Yamahas found in elephant boneyards deep in the bowels of university music departments and vintage studios.
This is a re-invention of the thing, with dozens upon dozens of companies new and old getting in on the action — reissuing classics, emulating classics, and going full forward into new and exciting territory. It's as if we all collectively miss knobs and wires… and it's awesome.
You've heard of the big boys — Roland, Korg, Sequential Circuits, Behringer — even IK Multimedia has a hardware line. But there are a whole bunch of super cool synth makers out there that you may have been missing, so let's take a look at some of them.
Here are six of the coolest synth manufacturers, in no particular order. But first, don't forget to check out Soundfly's online course, Advanced Synths and Patch Design for Producers, and learn how to move beyond presets to create a wide array of scintillating synth sounds for your productions and performances.
Based in the Netherlands, Tasty Chips specializes in hardware synths using granular synthesis and convolution, and they "aim to continue to innovate in these fields." They have Eurorack-style synths and some sleek-looking desktop versions, and they all tend to lean toward the ethereal, lush, soundscape world, with plenty of potential for creativity.
Tasty Chips products run in the 500€ to 1,000€ area, which makes them not cheap per se, but pretty affordable compared to fancy-dancy hardware synths.
This German company is an interesting animal, historically. Vermona (properly "VEB Klingenthaler Harmonikawerke") was a state-owned company operating in East Germany in the really old days (since 1949), and electronic instruments were a small part of the picture. Fast forward to 1990 and the company was broken up. Three guys from R&D took the electronic instruments section and by some mysterious force managed to get back the Vermona name in 2000.
Since then, they've been making a variety of desktop and Eurorack synths including new beasts and updated classics like the quirky, knobby Vermona DRM1, a reissue of the classic Syncussion DRM1 from the '90s. The bad news is there are no US dealers of Vermona stuff as of this writing — but you can order these bad boys from various sources. The DRM1 goes for anywhere from $500 to $800, depending on how ambitious the seller is.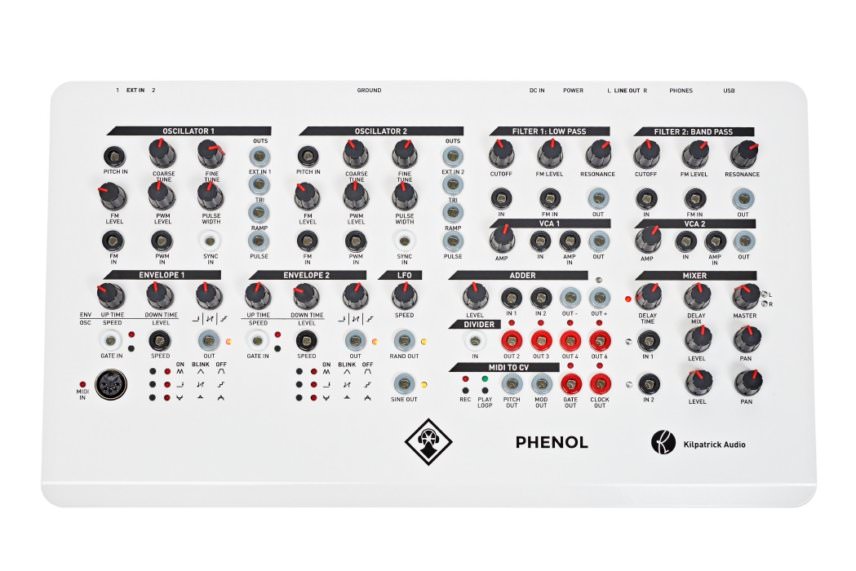 If you wanted small, this company is it. Based in Montreal, Canada, Kilpatrick Audio is two guys, Andrew Kilpatrick, who makes the stuff, and QP Tharmviboonsri, the "voice of reason." For a little company, they have a surprisingly robust line of products, including desktop and Eurorack synth modules, processing units, and even branded t-shirts.
At $799, their Phenol patchable analog synthesizer is a fascinatingly compact version of an Arp-like experience, only with modern amenities like MIDI and USB ports. Also fascinating: the Sextuplet Quadraphonic Spatial Director — a controller with mega potential and a great name. Do these guys even know how cool they are?
Founded by two apparently "broke" Greek musicians, Dreadbox is a small firm based in Athens. They do synths and effects pedals along with some DIY kits and chromatic modules in a range of effects categories. Their synth choices basically come down to one polyphonic and one monophonic choice, both small enough to carry in one hand and USB powered and including a power bank (see also: battery!), which makes them super portable…
Imagine running around town jamming to your portable synth… Well, you don't have to imagine it, because they made this awesome promo video.
+ Read more on Flypaper: "A Brief History of Synthesizers (Video)"
Technically, this German company has been around since 1995, when founder Jürgen Michaelis started putting a J*m*x logo on some small MIDI interfaces. People thought the asterisk looked like O's so the name Jomox was born. Now they make a range of hardware synths, both Eurorack and desktop style, including a bunch of percussion instruments like the Alpha Base and something unique, called the MBase11 which is just an analog kick drum module.
To loosely translate the German, the "MBase11 can only do one thing, but it is correct: fat bass drums!" That bad Larry is 249€ in their shop, and the Alpha Base is 1,799€, so that gives you a rough idea of what Jomox products cost. That MBase11 is looking pretty tempting…
If you remember and miss the old patchable synths that were the size of your mom and made you feel like a telephone operator from the 1950s, this other German group has something for you – the A-100 Analog Modular System. This guy is all wires and holes and fun, and since it's a modular system, you can put together unique arrangements, and there are a variety of systems available from Doepfer, ranging from around 1,200€ up to 2,450€. For a true throwback experience, Doepfer has you covered.
On a final note, once again, please check out Soundfly's in-depth explainer course, Advanced Synths and Patch Design for Producers, to learn more about the different types of synthesis and how to custom-build soundalike patches for any music production use case.
Don't stop here!
Continue learning with hundreds of lessons on songwriting, mixing, recording and production, composing, beat making, and more on Soundfly, with artist-led courses by Kimbra, Jlin, Kiefer, RJD2, Ryan Lott, and of course, Com Truise: Mid-Fi Synthwave Slow-Motion Funk.