+ This is an excerpt from Soundfly's Modern Pop Vocal Production course. To access the rest of this lesson, plus hundreds of instructional videos and tutorials on production, songwriting, composing, beat making, mixing and more, subscribe here.
In our opinion, pitch correction is one of the most important steps in modern pop vocal production. It plays a huge role in the mainstream pop sound, potentially more than any other genre. In fact, these days it's not uncommon for pop artists to use some form of pitch correction live on stage.
In this lesson, pulled straight from rising bedroom pop songwriter Sırma's online Soundfly course, Modern Pop Vocal Production, we'll show you why pitch correction should definitely be one of the tools in your toolbox (sorry haters!) and how you can get started using it right away. Enjoy!
Developing a Sound
While tuning vocals has become common practice, the level of tuning an artist or producer uses can help establish their signature vocal sound. Let's compare how an artist like Halsey uses pitch correction versus someone like Lorde.
In "Without Me," Halsey's vocals are heavily processed, and the intensity of the pitch correction is a big part of the sound.
For comparison, check out "Green Light" by Lorde.
"Green Light" takes a more natural approach, making Lorde's performance a bit more intimate-sounding. But don't think for even one second that Lorde's vocals have not been tuned! They almost certainly have some amount of tuning on them, even though she's an incredibly talented singer. The vocals just aren't tuned as aggressively as Halsey's.
This comparison shows how tuning can be a stylistic choice that supports the emotional goals and aesthetic of the song.
Tuning Stigmas
Another reason we're showing you these examples is to help lift the stigma off the subject of vocal tuning in your mind. Today, tuners are not just designed to fix pitch issues, they're creative tools as well. Tuning stretches well beyond pop music into rock, hip-hop, R&B, world music, folk, and so much more.
Check out Bon Iver's "715 – CR∑∑KS," for example.
Your tastes in vocal tuning will become clear after some trial and error. Up next, let's check out the many shapes and sizes of modern pitch correction tools available with your DAW!
Common Pitch Correction Tools
There's a whole bunch of tuning options out there. Before we get into the specifics, we should probably let you know that pitch correction tools come in many shapes and sizes, but there are two main formats: graphic and auto.
Graphic Tuners
As their name suggests, graphic tuners lay your vocal performance out visually, almost like a MIDI file. These allow you to see the duration of each pitch and make incredibly precise adjustments to all kinds of parameters. For meticulous and subtle work, these are tough to beat.
Melodyne is a great example of a graphic tuner.
Auto Tuners
Auto tuners allow the user to define a scale, tuning speed, and other parameters to adjust how much pitch correction is applied to the vocal, while processing it in (almost) real time. While this format or mode lacks the ability to edit individual notes, the result is a sound that's often a perfect fit for genres like pop, trap, and EDM — the vibratos become more wobbly, and the pitch center is nearly perfect.
An example of this is Logic Pro's built-in Pitch Correction plugin.
With that in mind, let's quickly survey the field of tuners. The options are plentiful, so you may want to try out several and see if one resonates with you. Remember, most have demos available, so be sure to try them out before purchasing anything!
Antares Auto-Tune Pro
Many producers prefer Antares Auto-Tune Pro because it offers auto and graphic modes in the same plugin. Additionally, Auto-Tune's auto mode can sound more natural compared to other pitch correction tools, when used in moderation.
In auto mode, you start by selecting the key of your vocal performance, and Auto-Tune will apply the same amount of correction to all of the notes. It's an industry-tested standard, and certainly a great tool to try.
The Retune Speed knob is one of the most powerful features in Auto-Tune. If you turn the Retune Speed knob up to the max, you can achieve the stereotypical hyper-tuned auto-tune effect. However, if you turn it up more modestly, you can achieve some more natural sounding results.
A big perk of Antares Auto-Tune is the inclusion of a graphic mode, allowing you to have a lot of the same precise control available in editors like Melodyne.
Learn more about the software and grab a demo here. Just note that you'll need an iLok.
Celemony Melodyne
Melodyne is Sırma's tuner of choice. Unlike the Antares Auto-Tune Pro, Melodyne doesn't offer an auto mode. Instead, once you transfer your vocal take into the plugin, you can individually select notes or globally adjust the Pitch Center and Pitch Drift to a percentage, and snap it to a key. This is about as "auto" as Melodyne gets.
Many of the tools you find in Melodyne are similar to the tools found in Auto-Tune's graph mode — you can make adjustments to the timing, the pitch of each note, and even change or create vibratos.
+ Dive deeper into vocal production, including part writing, recording, editing, mixing, and more, with our comprehensive course Modern Pop Vocal Production.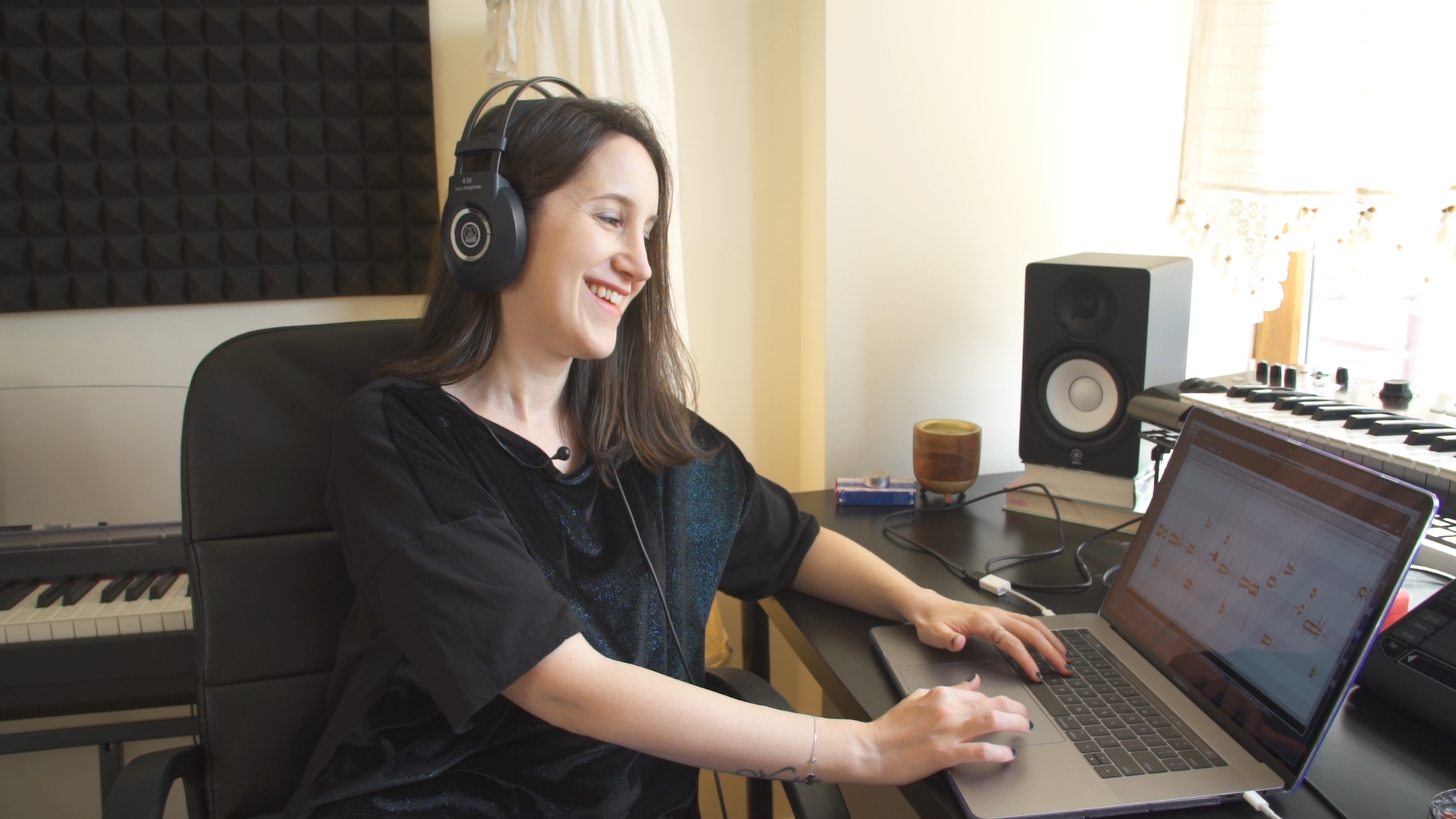 An extra feature of Melodyne is the Amplitude and Amplitude Transitions Tools. These let you adjust the volume of each note. Additionally, Melodyne Studio has a multi-track feature that's particularly handy when tuning background vocals, since it displays all the vocal layers in your session you tell it to display.
If you're looking to give it a shot, Melodyne offers a 30-day demo you can download here.
Waves Tune and Waves Tune Real-Time
Waves offers pitch correction plugins for both formats. Waves Tune is the graphic option, with many of the same features as Melodyne and Antares Auto-Tune's graph mode. Similarly, Waves Tune Real-Time is very comparable to Antares's Auto-Tune.
Demos are available for each: Waves Tune and Waves Tune Real-Time.
Built-In Options
A few DAWs come bundled with built-in tools. For example, Logic Pro's Flex-Pitch is a pretty formidable graphic option with many of the same tools as Melodyne. There's also the fairly old Pitch Correction plugin, which is a very basic auto-tune style effect that can help out in a pinch.
Steinberg Cubase's pitch correction module, VariAudio, is another great built-in option. The only downside seems to be the fact that you can't select a key or scale to snap your notes to — not a dealbreaker for everyone! Some producers claim that VariAudio sounds way more natural compared to its competitors, and combined with Cubase's new Audio Alignment feature, it's a winner.

How do you choose?
Try them! All of these plugins have their own unique sound and workflow. Some argue that Melodyne adds digital-sounding artifacts and prefer Auto-Tune or Waves Tune for that reason alone. Some other producers don't like the way Auto-Tune interprets vibrato and use Melodyne instead.
Many producers don't like Waves Tune and find it less intuitive. If you're a Logic or Cubase user, try your built-in options before you write them off. You may really love the sound you're able to achieve with them!
In short, all of these industry-standard pitch correction plugins serve the same purpose but come with their own unique design, sound, and artifacts.
Hard stop!
Continue your learning journey with more lessons on mixing songs, home audio production, electronic music recording, beat making, and so much more, with Soundfly's suite of in-depth online courses, including Modern Pop Vocal Production. Subscribe for unlimited access here.