Money, such as it is, is hard to come by in the music business of the 21st century — so most bands have to jam econo just to break even (if that). Fortunately, there are lots of cost-efficient options for the modern touring band — especially those who are only able to make regional jaunts. So I thought I'd hit up a few touring musicians for some real-world advice. Some of these options are more fuel-efficient than others, but all are reasonably easy to attain. In fact, you (or someone in your band) may have access to this stuff already.
+ Read more: Book your own mini-tour in any of these 5 states with 5 or more awesome cities to tour through.
Touring can be difficult, but it's an adventure that every band needs. Plus, it's more fun to play shows than to sit around and will your SoundCloud plays into double digits. So read on, and hit the road.
1. Conversion Van
Conversion vans were super popular in the '80s. Not only were they roomy, but they were comfortable and could power a small TV, VCR, and a video game system. On top of it all, the rear seating usually folds out into a bed. Used conversion vans can be picked up for pretty good prices nowadays, and as Trevor Dane of Freaky Deakys notes, they're perfect for touring. (Fun fact: they have one named Francesca.)
"There are several reasons why I prefer a conversion van over, say, a cargo or minivan.
While they all have the advantages and disadvantages, conversion vans are bang for your buck and hit on many different musician vehicular needs. Some obvious touring needs are space, comfort, and, believe it or not, stability.
These vans where built well; even though they are getting older, it's worth it to take care of these luxury dinosaurs of the road. Conversion vans are very forgiving and can conform to your individual needs on the road. While you lack some of the cargo room in, say, a large, cargo, 16-passenger, you make up for it with style and comfort. And from that level of comfort the van almost becomes its own character and more or less part of the band which, in another turn, promotes camaraderie throughout the tour. It becomes a clubhouse or safe place — the inside of these things are very lush and home-like, which can take stress off of the high-frequency lifestyle of a touring musician.
Depending on your van, gas can vary between 16 to maybe 22 miles a gallon — not the best, but unless you're running a newer van like a Sprinter or Toyota, paying a little extra to haul you and your buddies around to the next gig is just a small fare. It's all in the name of rock."
+ Learn more: Did you know our DIY touring course is totally FREE?! Start learning how to book your own tour today!
2. Compact SUV: Honda Element
It feels weird to think of a car like the Honda Element as an SUV but, despite their smaller size, they have a surprising amount of room. The interiors can be easily reconfigured so you can customize the seating-to-storage ratio to your band. What's more, these cars have pretty nice pickup and get decent gas mileage, especially in comparison to most tour vans. There are several great brands and models for you to choose from — both new and used.
Mark Beasley of \\GT// says, "With both back seats removed, I was able to haul an entire four-piece band's gear, including guitars, drums, amps, keyboard, and PA equipment to local shows. When GT formed as a three-piece, I hauled the gear. When we got our first out-of-town show, I took out one seat and we loaded the Element to the brim. We noticed that with some thoughtful arrangement, we could use it as a tour vehicle. So for the first GT tour, we went up to Pittsburgh and back down, with me riding in the single backseat surrounded by band gear. We had a 'schematic' that I designed so that we would pack the Element the same way every night and always have room to sit 'comfortably.'"
3. SUV + Trailer: Mitsubishi Outlander + U-Haul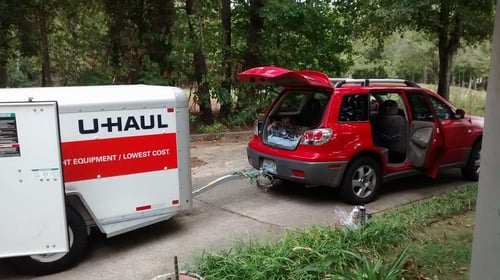 The Glass Jars' Mitsubishi Outlander (photo courtesy of Jeremy Tidmore)
Jeremy Tidmore took his band, the Glass Jars, to SXSW and back in a Mitsubishi Outlander and a small trailer.
"We were gone two weeks, and we took everything: instruments, PA, lights, clothes, etc.," Tidmore says. "We were traveling so that we could basically be a band in a box… Because of that, even traveling with a trailer, our gas for about 3,000 miles was about $320. On top of that, we could park the trailer, disconnect it, and then do something in a regular-sized vehicle without taking all of our gear everywhere. I think our entire tour, for two weeks' gas, hotels, food, etc. ran us about $1,300.
"We did two [SXSW showcases], one in a parking lot, where we literally opened up and set up right there, and another one inside a hat shop… We were able to get around pretty easily — at least as easily as could be expected during SXSW."
+ Read more: In our new series "The Compass" musicians from all over the world give us an insider's tour of the best venues and sights their hometown has to offer.
4. Hybrids: Toyota Prius
Walon Smith is a working musician — which is to say he's working his ass off playing gigs across the Southeast most nights of the week as a solo musician, a sideman, or with his new project, Cotton Bird. All that work means he does a lot of driving, which makes owning a hybrid a worthy investment. It's even affected his choice in equipment: "I use a 2009 Toyota Prius to transport a small drum rig, guitar, sometimes bass amp, light rig, and… here's the key to making it work: a small, but world-class quality PA system that gets louder than most four times its size with studio-monitor clarity even at ear-splitting volumes. Every piece of equipment was researched thoroughly for dimensions that would work in the Prius Puzzle-Packing Scheme."
Bonus tips
1. Get a roof rack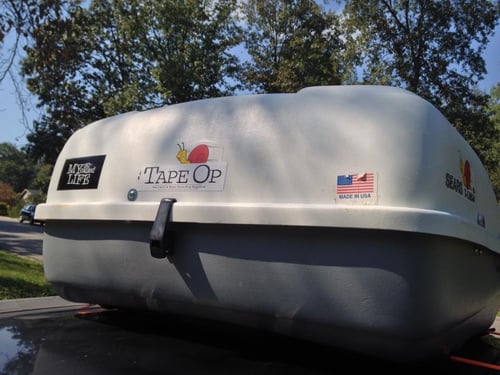 Photo courtesy of Brian Moon
Despite schematics and flexible bandmates, a mini-SUV can get cramped really fast. In this case, a roof rack can free up some space in your vehicle of choice without totally blowing your MPGs. And even with the extra storage, you might want to consider paring down your equipment (and your luggage) in order to maintain some comfort.
"We knew that touring was going to be unrealistic for us if we had to rent a van or trailer," says Janet Simpson of Delicate Cutters. "Luckily, Chance had a Honda Element and Brian had a rooftop luggage carrier. It's really close quarters, but if we all agree to take a very minimal amount of personal belongings (what you can fit into a backpack) and use smaller amps, we can fit all of us, our gear, and sleeping bags into the Element. We get great gas mileage, and travel is relatively easy once we get the packing system down. Maybe the close quarters help us bond, too. We don't hate each other so far, anyway."
Through the Sparks is a band that often contains five (or more) members, but lately they've been operating as a power trio which allows them to travel a little bit easier via a Volvo station wagon. They are also firm believers in the power of the roof rack. "It's all about the roof rack," Jody Nelson says. "Done a couple little jaunts that way. Best tip is to get one of the non-rigid type car toppers that zip up. They expand and are able to be pushed to the limits, and can be wadded up and locked in the vehicle at night when the gear is unloaded. Pain in the ass, but so is a van and a trailer."
2. Get creative
There are lots of ways to trick out a Ford Econoline van (which is practically the official vehicle of touring bands), so always keep an eye out for one that's in good shape — you can sometimes buy them from rental car companies or local business for a good price. And speaking of local businesses, it's becoming more common for bands to tour in a sponsored vehicle. It may not look as cool, but you'll love the money you save.
A label I used to manage, Communicating Vessels, tricked out an old airport shuttle for our bands to use — it had lots of room but was difficult to maintain, tow, or fix a tire (it was lots of fun, though). But, really, any vehicle that reliably gets you to a gig is a good tour vehicle.