+ Producers, Synth Heads and Sci-Fi Nerds, our new course with synthwave pioneer, Com Truise: Mid-Fi Synthwave Slow-Motion Funk, is out now!
Microphones are cool, and everybody knows it. If you've been recording music for more than about five minutes, you've likely heard of the industry standard companies like Neumann, Telefunken, AKG, Sennheiser, etc.
But in the tradition of highlighting lesser-known companies that just happen to be bad to the bone, here are five independent microphone makers you really shouldn't sleep on in 2023.
My criteria were simple: They had to make high-quality stuff, be smaller than the mega audio corporations, and catch my eye. This is by no means a comprehensive list of awesome, smaller mic companies — just five of the coolest we've been digging recently. They're presented in alphabetical order as to avoid any sense of ranking; they're all awesome.
AMT is a U.S. company based in New Jersey. This isn't a new firm — they've been making mics since 1978, so they know what they're doing — but what's different about these guys is they make handmade microphones designed for specific instruments each, like saxophone, piano, accordion, kick drum, etc.
Rather than having a wide selection of various multi-purpose mics, they focus hard on tailoring the sound of each mic to perfectly capture the instrument it's designed for. This includes a lot of mount mics for instruments like horns and woodwinds, and plenty of wireless systems for live performance, which is really their bread and butter.
+ Read more on Flypaper: "Pop Filters: The Secret to Perfect Vocals"
"Microphones of distinction" is Ear Trumpet's catchphrase, and they get points for that alone. Ear Trumpet is a tiny little company of five humans and one dog based in Oregon, but you could probably have guessed that by the post-apocalyptic steampunk look of their gear (….very "Oregon"). These mics are so cool looking you could use them as prop mics, but they also have a classy sound that really works for acoustic instruments.
If you're a modern folk or bluegrass group or a solo singer/songwriter, ETL mics are the perfect thing for studio and stage. The coolest thing though? They'll make you a custom mic out of whatever old crap you want to send them!
The Swedish group at Ehrlund should make any list because they've revolutionized mic technology, which is rare. Their mics are based on their patented triangular membrane, invented by a Swede named Göran Ehrlund. Not to get too technical, but in theory, the triangular membrane "dampens incoming sound more slowly" than a regular, circular membrane. This means a clearer, more transparent sound, and there are plenty of Ehrlund adopters for evidence. Even George Massenburg agrees; he used an array of Ehrlunds to create the Superior Drummer 3 library.
Lurk around a few forums asking about cool, lesser-known mic companies, and 20-year-old Slovakian company Flea comes up over and over. What Flea does, mainly, is make "exact replicas" of famous, vintage mics. For example, the Flea 47 is an exact replica of the Telefunken U47, with the same F7 capsule, BV8 transformer, and the same set of tubes. These mics aren't cheap — a Flea 47 goes for about the same price as a Neumann U47 (the later solid-state version). But that's about half of what an original tube U47 would sell for. You can save some dough by going with Flea Next; a line of the same mics with various features removed to lower the price. The 47 Next, for example, removes the omni option and reduces the price by about $1,000.
+ Read more on Flypaper: "The 13 Most Common Mics You'll Find in a Studio, and Why Engineers Rely on Them"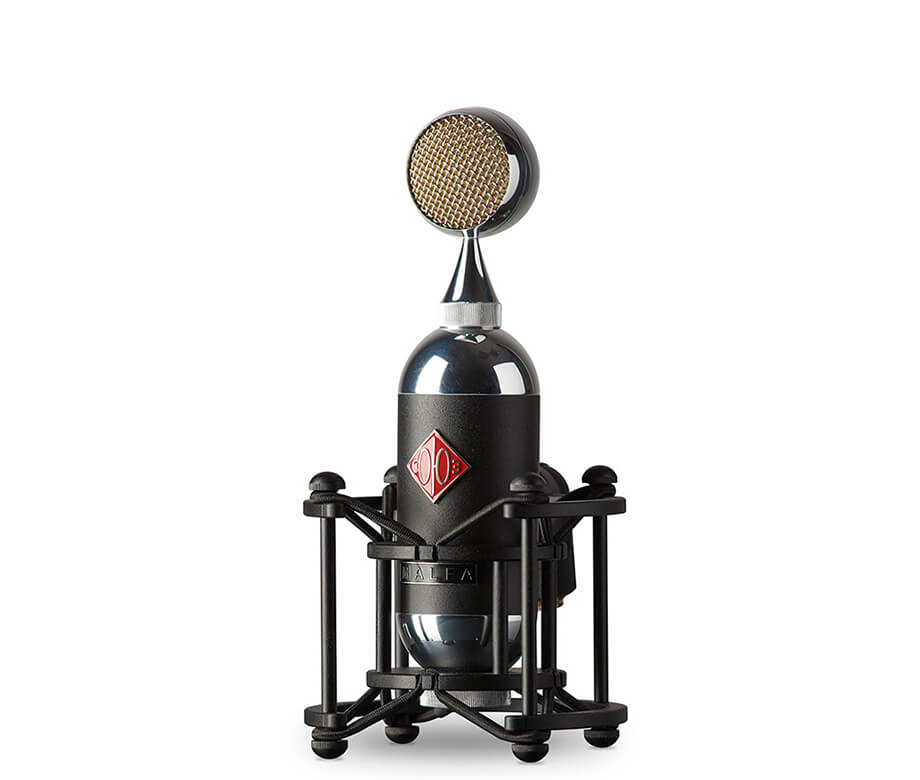 Finally, we have Soyuz and first let's dispel a myth. No, these are not microphones made from old Russian space parts, although that would be awesome. Soyuz happens to mean "union" or "alliance" in Russian, and the name is a reference to the fact that this company marries Western "design, quality control," and marketing with Eastern technical skill. In other words, it's an American/German/Russian collaboration, and what could be more wholesome and refreshing these days?
Soyuz was founded in 2013 and they're the exact opposite of Flea. Soyuz prides itself on not replicating classic designs, instead using its own original designs which are manufactured in its facility using only manual equipment and master machinists. Like, really truly handmade. Oh, and in case you're wondering, yes, they sound great too.
Get Yourself Some…
Well, there you have it. If you're looking for a new mic or mics, your perfect choice does not have to be one of the old standbys. These five mic companies are a few of a slew of awesome, smaller companies that deserve a look.
Don't stop here!
Continue learning with hundreds of lessons on songwriting, mixing, recording and production, composing, beat making, and more on Soundfly, with artist-led courses by Kimbra, Com Truise, Jlin, Kiefer, and the new Ryan Lott: Designing Sample-Based Instruments.