+ Learn from Grammy-winning pop artist Kimbra how to harness the full creative potential of your voice in song. Check out her course.
At one time, debates between musicians were usually centered around which instrument you played; and then it moved to what mics and tape machines you used; then the conversation turned to whether you recorded digitally or analog. Now, the big question musicians get fielded is: "which DAW do you use?"
The truth is there's really no "best" answer here — everyone has different preferences and needs — it's only important which one is best for you.
Yet, how to determine which DAW that might be can be a little tricky. The best thing to do is try a few of them with free trials and see which workflow is best suited to your process. But instead of spending that much time exploring, let's consider a few key elements first.
Here at Soundfly, we've got in-depth courses covering music production in Logic Pro X and Ableton Live, but you can find information about producing in some of the other applications below in our artist-led courses.
What will you be doing?
The first question to ask is what will you be doing in the software? Recording live instruments, just vocals, tracking soft synths, building loop-based material, performing live with the laptop? Will you be mixing or mastering? Perhaps you'll only be mixing and never tracking or editing?
Answer this question first, because it can have real consequences on your software choices; but consider giving yourself room to expand later. We'll be taking a look at some DAWs that fit each situation below.
Which genre is your music?
DAWs are never genre-specific really, but some have some key features that favor some genres over others. For example, Ableton Live is the obvious favorite for electronic music makers, followed up by FL Studio (also popular with hip-hop and trap producers). Meanwhile, MixBus gets a lot of love from old-school rock 'n roll people because of its console-like interface and analog emulation.
+ Read more on Flypaper: "How to Set up a Film Scoring Session in Your DAW."
What's your budget?
Some DAWs are expensive and some are moderately priced. Others are free altogether. If your budget is nothing, you might as well skip the trials of paid products for now.
On the other hand, if you've got all the money in the world, that doesn't mean you'll necessarily opt for the priciest option, such as ProTools.
Will you be collaborating often? And what do your partners use?
If you're getting into a new DAW and you have regular collaborators, you might consider opting for what they're already using. While it's not at all necessary to work in the same DAW, it can speed things up a bit if you're able to simply share projects back and forth rather than exporting tracks.
The vast majority of pros in the industry use ProTools, so that's a safe bet if you want to share projects amongst major studios and producers, but Logic and Cubase are also common enough to be good options for sharing.
+ Learn production, composition, songwriting, theory, arranging, mixing, and more; whenever you want and wherever you are. Subscribe for full access!
How do you like to work?
Understanding yourself can help while picking a DAW. If you cut your teeth on analog mixers, for example, some DAWs will be more intuitive for you. If you're a songwriter, you may not take to looping as well as electronica artists. Consider whether you're better with a mouse or keyboard shortcuts, whether you like to use external controllers with faders or knobs, and so on.
You can only predict so much without trying some software, but at least think about how you like to work.
So, which DAW is right for you?
We didn't want to leave you more confused than you came in, so here's a nifty rundown of the top contenders. Bear in mind that there are many more options than those listed here.
Avid ProTools
The industry standard. It's a subscription, not a one-time purchase, and ProTools is the most expensive DAW out there, but it is robust and worth the price. ProTools is an advanced tool and can be hard to master for beginners. It's the best choice for sharing projects, though.
Apple Logic Pro X
Logic Pro runs a close second in number of users. Many people prefer it to ProTools for a more intuitive workflow and a more complete package out of the box, replete with loops, virtual instruments, effects, and plugins galore. Not to mention the price, much much cheaper.
Ableton Live
The "other" industry standard for electronic music producers. Ableton Live works differently from other DAWs because of a focus on loop-based performance. If you plan on using a DAW on stage as a performance tool, with live electronic processing, loop triggering, and manipulable backing tracks, there's really only this one choice.
Steinberg Cubase Pro
Some people like Cubase better than others because of its robust MIDI editing capabilities and efficient mix workflow, although there's a little bit of a learning curve on the latter.
FL Studio
FL Studio is easy to learn, even for non-musicians, and great for beat makers who don't have a MIDI controller, as step entry is intuitive and easy. Tons of your favorite artists use FL Studio (believe me).
Cakewalk by Bandlab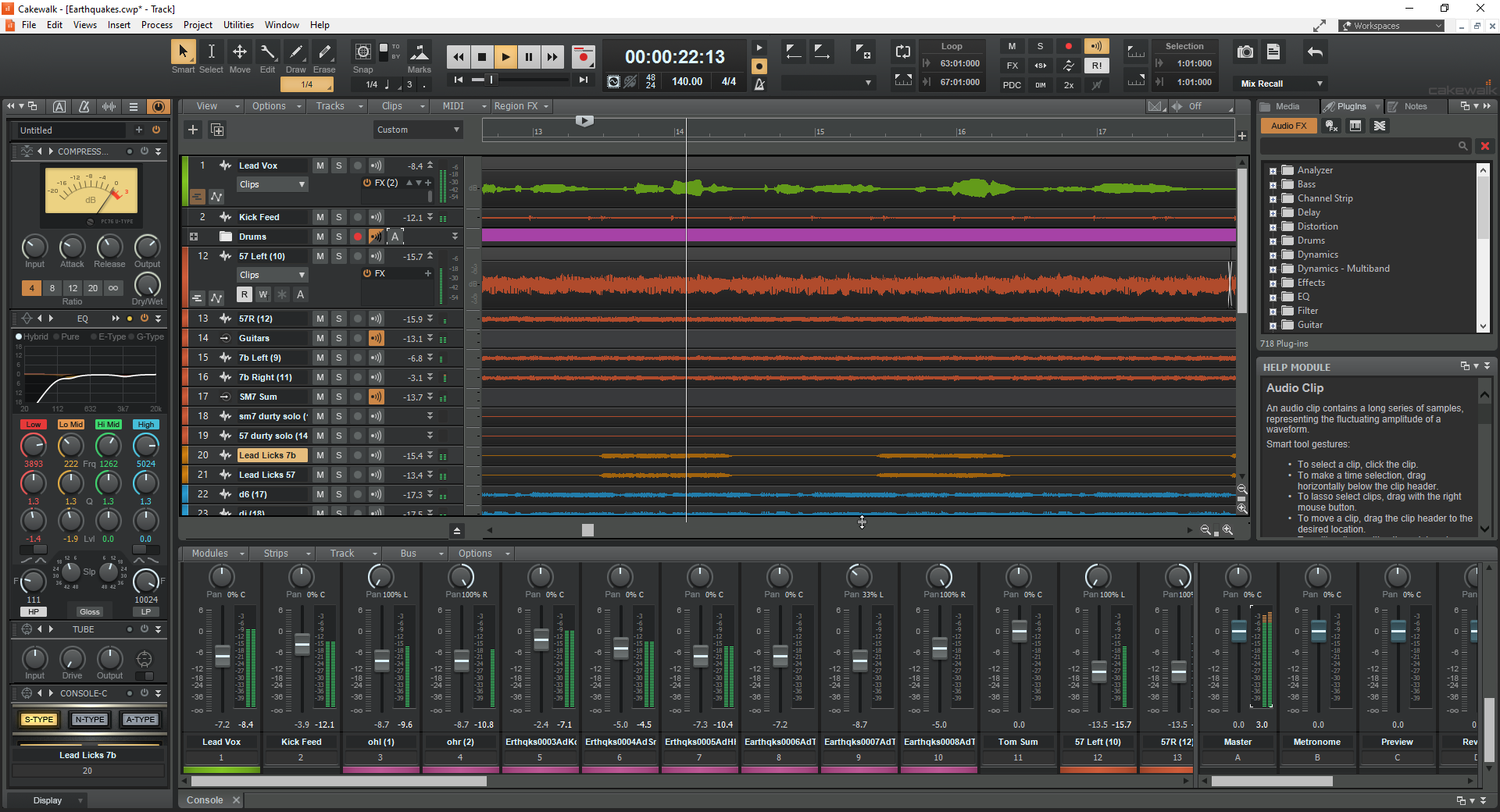 Not mentioned in many lists, Cakewalk is way more than you might think. It's not just an online collaboration tool. In fact, Cakewalk has been around for over 30 years, and previous to its purchase by social music making platform Bandlab, Cakewalk Sonar was one of the best DAWs out there. Now it's free, which is mind blowing because it's still fully featured. In fact, rather than ratcheting back Sonar's features, Bandlab has continued to develop and improve upon Cakewalk. Full disclosure: Cakewalk is my main work platform, despite owning many others.
MixBus
If you want an old-school vibe alongside an amazing software emulation of a classic analog sound, MixBus is to die for. For some big-time producers, MixBus has actually replaced a hardware analog summing box, and MixBus users are diehard. I use it for final mixdown, but I have to admit, I don't find its editing tool all that intuitive.
---
Our best advice is to grab a trial of a few of the DAWs that call out to you. Read the above, go to their sites, and consider what you want to accomplish. Then try a few. You'll find that some will just not fit the way you think, and others will seem easy and fun. You can even do a quick project on each and note how fast it got done.
And a final note: You don't actually have to pick just one. As mentioned, I use Cakewalk for tracking, editing, and creative work, but port mixes to MixBus. I also use Ableton because the vastly different process leads to different results.
Don't stop here!
Continue learning with hundreds of lessons on songwriting, mixing, recording and production, composing, beat making, and more on Soundfly, with artist-led courses by Kimbra, Com Truise, Jlin, Ryan Lott, and the acclaimed Kiefer: Keys, Chords, & Beats.